The Sound of Music Live! on NBC starring Carrie Underwood as Maria von Trapp and Stephen Moyer (True Blood) as Baron — later, Captain — Gaylord von Trapp was a mixed bag, but mostly, at least in terms of singing, it was a success, and Underwood gave a gutsy performance. To act and sing in a three-hour-long musical and to do it well is very challenging; to do it LIVE, like it was done tonight, is ridiculously difficult.
Carrie Underwood showed a great deal of guts, taking on a much-beloved role that was made most famous by Julie Andrews in the 1965 movie The Sound of Music, and my hat's off to her for that. She stuck it out, despite haters in some media circles and on Twitter criticizing her for even daring to take on the role of Maria von Trapp, the WWII nun and nanny to a house of unruly children who turns them the singing sensations, and who attracts the romantic interest of their father, the wealthy and somewhat strict Baron von Trapp.
The Sound of Music Live! was really based more upon the Rogers and Hammerstein Broadway musical The Sound of Music, than the Julie Andrews version; but, it was inevitable that comparisons with Julie Andrews would be made, many of them placing Carrie Underwood in an unfavorable light.  However, Andrews gave her blessing to the production, and in comments mentioned how difficult she thought it would be for anyone to take on such a role and attempt to do it live. Craig Zadan and Neil Meron produced the television event, and suggested that if it was a ratings success, there would likely be more live  productions of musical on television in the future.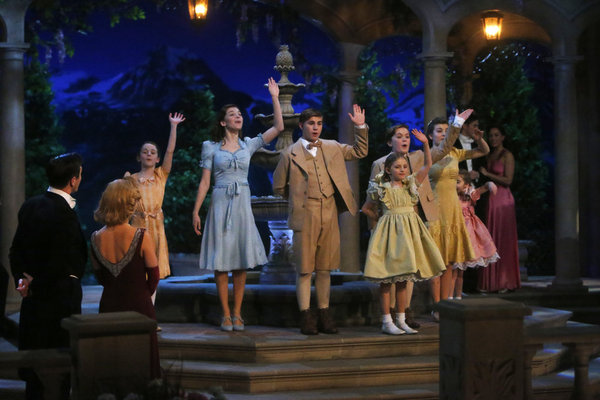 I have not heard yet how The Sound of Music Live! did in the ratings, but  there are many fans of both Carrie Underwood and of The Sound of Music in the USA, so I'm predicting that it likely did very well. Some people probably tuned in just to see how badly Carrie would flop, and then to criticize her.
I, on the other hand, tried to go into writing this review from the perspective of someone who had never seen the 1965 movie (though I have seen it numerous times and I'm a big fan of it). I know, and Carrie Underwood has said it, herself, that there is only one Julie Andrews. Carrie was not trying to say she was as good as or better than Julie Andrews, as people on Twitter and elsewhere have mentioned. I just sat back, and watched, and tried to have an open mind and act like I was seeing the story unfold before me for the first time.
People on Twitter tonight, for the most part, said that they liked Carrie's singing, but thought that her acting — and the acting of most of the cast, at least during the first hour or so — was "stilted." I think that there is at least some degree of truth to that, but this was all live, and IMHO, for the most part, the acting got better as the show went on.
Other criticisms were about the locations where some of the movie's iconic songs were performed in The Sound of Music Live! compared to the Julie Andrews movie. It was strange, I'll admit, to hearing the song "Do-Re-Mi" sung in the foyer of the von Trapp house, or "Lonely Goatherd" in Maria's bedroom.  I don't know if this was how the 1959 musical went, or if it was just this particular production that did it that way — but, either way, that would not be the fault of any of the actors and actresses.
One thing that struck me as being odd was the way that Captain von Trapp and Maria went from being in the role of boss and hired help to being potential marriage partners. Captain von Trapp was all ready to marry another woman, and Maria was intent on sticking to being a nun. They went from the former to the latter fairly quickly, trading kisses and falling in love, though there were many indications that they were growing fond of each other earlier in the production.
The Sound of Music Live! had all of the songs that the Broadway musical and the 1965 movie made famous, and even included a few that were only in the Broadway version of The Sound of Music. The soundtrack of the NBC production went on sale two days ago, on December 3, and it is selling briskly at  retail outlets like Walmart.
My final verdict of The Sound of Music Live!, for what it's worth, is that — assuming one has an open mind and doesn't compare it to the Julie Andrews version — it was a pretty good version of the 1959 Broadway musical. I give props to Carrie Underwood for singing some relatively difficult songs  and doing a darn good job of it, and also for having the guts to perform this three-hour-long production LIVE in front of millions of people. Stephen Moyer did a quite good job, as well, and I enjoyed his version of "Edelweiss." The children that played the von Trapp siblings also sang and acted very well.
I give The Sound of Music Live! a solid B+. It made television history by being the first musical performed live on public television in over 50 years. I didn't detect any stumbling over lines, or any major flaws, though Carrie looked as if she almost tripped earlier in the production. I give her kudos for taking on the role of Maria von Trapp, knowing that she had extremely big shoes to fill. I'd like to see, in the future, possibly musical productions of South Pacific and Cabaret, among others.
Written by: Douglas Cobb