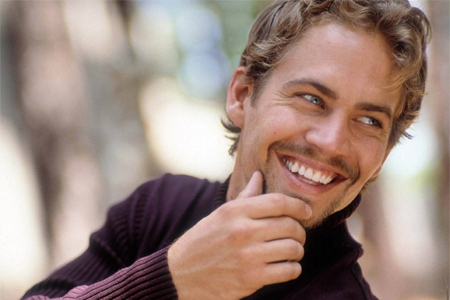 Paul Walker is gone.  Accidents happen, people die, loved ones cry, mourn and remember.  Through it all, life eventually goes on somehow, as we never forget the one we lost and gradually accept the truth that they are gone forever from this life.  It has been close to month since actor Paul Walker and his friend Roger Rodas lost their lives in a tragic car accident.  Whether due to speeding in a beautiful red Porsche Carrera GT, outside influences such as drugs or alcohol, sinister conspiracy theories of sabotage or a stunt faking their own deaths, the truth remains that the two men perished on November 30.  The publicity and outcry for answers surrounding the accident, has deduced their tragic deaths to a sad sideshow of disrespect.  Walker and Rodas will never rest in peace until people let it go.
Even after the crash scene was cleaned up and looters scarfed up wreckage and tree bark to sell on E-Bay, the matter continues to be top in the news.  Autopsies and funerals have occurred, memorials of flowers and trinkets have been placed, and investigators are sorting out the facts of the accident.  Story upon story has been written with Walker being lifted up to a God-like status, even garnering more attention than Nelson Mandela's passing or the woes of the U.S. government.
The most talented Walker, a fit forty year old with a gorgeous smile and eyes the color of the ocean, has died.  It is very sad and was truly unexpected.  From all accounts, he lived a good life, was a charitable man and doted on his teenage daughter, Meadow.  Walker led a somewhat normal life, even that of a movie star, enjoyed nature and appeared to be an honest, caring citizen.  The publicity created by his death has been astounding as theories of him faking his death or being involved in shady business practices have overshadowed the work he did on earth.
To even think that Walker would fake his own death, as some reports have focused on, is preposterous.  He loved nature and people.  He was an active ambassador for hope in restoring areas devastated by natural disasters and he founded his own charity Reach Out Worldwide to make a difference.  He did not sit back and administrate the charity from a desk, he got sweaty and dirty as he participated firsthand in relief efforts.  He had no reason to die, much less fake it.  If by some chance he or Rodas had any underhanded involvement in monies collected to benefit the charity, it was not apparent at the time of their deaths.
Faking one's death is a calculated move on the part of someone who does not respect their family and friends, and fans in this case.  To deny his loved ones in order to escape from penalty of some kind is the ultimate betrayal.  Especially right before Christmas, Walker faking his own death would leave his only daughter, siblings and many friends in the lurch.  From what we know about Walker as a person, it does not seem like he would stoop so low as to give into a fatal caper.  His heyday of glory with car stunts and special effects are well documented through his films and his role in the Fast and Furious movies.  He experienced the fast life in fictional time, no reason to do it for real.
If Walker faked his death and his family and friends knew about it, they would have to be excellent actors to carry on the charade.  What reason would there be anyway?  A man in the prime of his life, successful and happy to fake his own death?  Not possible.  If other motives for the crash, which was captured on surveillance tape, were set up, it would be a shock to accept and would tarnish the good name Walker worked hard to establish.
The man deserves more respect in death than he is receiving, so he can finally rest peacefully within the heavens.  His final time came due, tragically and unexpected, but still it happened.  With no pun intended, Walker would most likely be appalled and shocked at the hoopla that has surrounded his passing.  All good things must come to an end, unfortunately, and as no one lives forever, things will happen.  Walker was a Christian and he lived a good life serving others, so it could be said that he is at peace.  The invasion of his privacy has been delayed with the constant banter of publicity.  People need to let it go and let him rest.
Sometimes well before their time, but with the satisfaction of a life well lived, people pass on from this life.  Paul Walker deserves and needs to be able to rest in peace with his maker and the accomplishments he did on earth.  His memory is being tossed around beyond his control and his journey will not be complete until people let him go.
For more information about Paul Walker and his charity Reach Out Worldwide, please see click here 
Editorial by: Roanne H. FitzGibbon