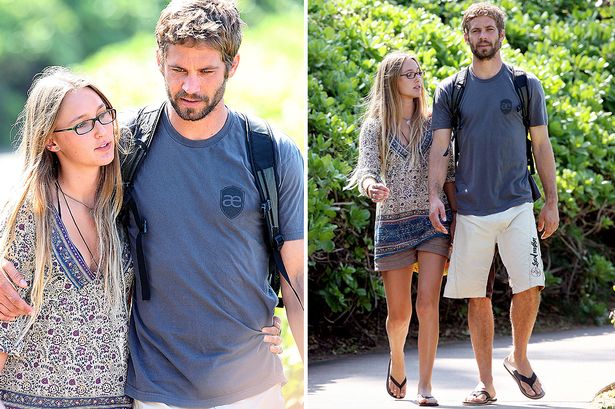 Barefoot and broken-hearted, Jasmine Pilchard-Gosnell, girlfriend of the late Paul Walker, visited his home in Santa Barbara for the first time since the fateful crash.  In the three days since the fiery smash which cost the star his life, it would appear that Jasmine, 23, has been in a state of complete devastation. She looked pale and distraught as she arrived to spend three hours at Paul's house.
Climbing out of a silver SUV, Jasmine had swollen eyes, and could not hold back her tears as a male friend came to comfort her. Jasmine and Paul had been together for seven years, and despite their 17 year age gap, they were very much in love. Jasmine was only 16 when she met him.
The young college student reportedly collapsed when she was told the news of her boyfriend's death. She was in attendance at the Reach Out Worldwide charity event, and the man standing next to her, Jim Torp, took a phone call. It was the news of the wreck.
Jasmine has been staying with her mother, Julie, ever since, as she tries to come to terms with her terrible loss.
Only last week, she and Paul had spent the Thanksgiving holiday together with his daughter, Meadow,15.  Meadow had moved in with her Dad early in 2013 after spending much of her childhood in Hawaii with her Mom Rebecca McBrain. They were joined by friends, including Jasmine's uncle Barton, for the celebration, with Walker soon due to fly to Atlanta to resume his filming on Fast and Furious 7.
Paul Walker Snr was also seen in public for the first time since his son's horrific death, emerging grim-faced from a Del Taco franchise with a cup of takeout coffee. Walker Snr has made a statement that if there is anything good to have come from the tragedy it will be to "raise the charity's profile – that's what Paul would have wanted."
Paramount Pictures have already announced that they will donate part profits from DVD sales of Fast and Furious 6 to ROWW. The chair of Universal, Donna Langley said "With the passing of Paul, the world has lost a man who spent a great deal of his life in service to others."
JD Dorfman, the operations manager for Reach Out Worldwide has also spoken about Walker's lasting legacy through the not for profit charity he was so proud of.  Paul Walker was extremely hands-on. He was on the ground in areas of natural disaster in places like Haiti, Chile and Alabama and helped set up emergency hospitals. Many of his fans know nothing of this side of him.
Dorfman said that Paul was not content to donate to the Red Cross, he wanted to take action himself and he would "literally get on the phone and knock down doors" to get specialist medical teams together to fly out to disaster zones. It was the earthquake in Haiti in 2010 which first prompted his humanitarian push to help others. "It was pretty much fly by the seat of our pants stuff" admits Dorfman
In Chile, Walker operated chain saws to work through debris, he would check blood pressure,  run medical checks, and he worked tirelessly. "He was on the front line and he inspired human beings." It was beautiful to watch, Dorfman says.
When Typhoon Haiyan hit the Philippines, the charity was low on funds. They didn't really have the resources to go. Paul would not take no for an answer. Within 2 days he got a team in place and he made it happen. One there, they saw 150 people a day in their clinic. The locals in the Philippines could not believe who was helping them, and putting up all the money. Dorfman reckons that Paul Walker put in millions of his own money.
One of the last projects Paul was working on was a scheme to get poor children in LA a present each for Christmas Day. He had been gathering toys and liaising with distribution centers in the city. Dorfman is determined that ROWW has to go on, from strength to strength, and that is the best way to honor its founder.
Another story has emerged which demonstrates the exceptional generosity of Paul Walker. A young couple were in a jewellery store back in 2004, looking at an engagement ring they could not afford. Kyle Upham was about to be deployed to Iraq and he wanted to give his fiancee,Kristen, a special gift. Unbeknowst to them, Walker was in the store too and he overheard their discussion. Once they left, he put the ring on his own card with instructions not to reveal he had bought it. The store owner then called the couple back in and gave them the $10,000 diamond ring. The couple are now married and the jeweller has decided it is only right and proper they should now know who paid for their engagement ring.
Small wonder Jasmine is so grief-stricken, her boyfriend was not only a famous, respected  and good-looking actor, he was a man with a huge heart and an enormous capacity for compassion.  Visiting his house without him there must be truly awful for her.
By Kate Henderson
Entertainment Wise