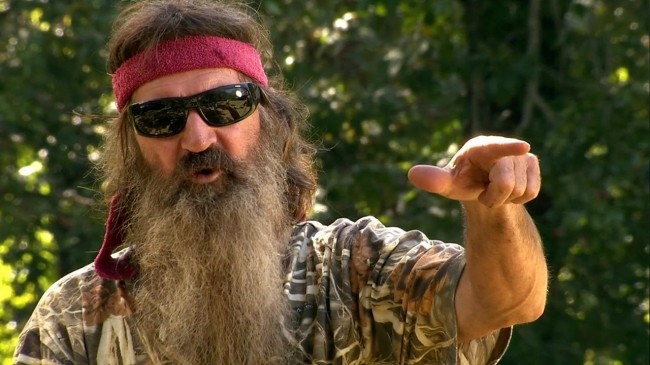 Phil Robertson (a.k.a. Philip Alexander Robertson) – star of American reality television series Duck Dynasty – has recently come under fire from the media, and public alike, for recently articulating some rather incendiary, anti-gay remarks. Robertson's politically incorrect slurs did not end there, however. It was later revealed that the bearded sensation – credited for creating the Duck Commander call, and the foundation of the Duck Commander Company in 1973 – had also raised a few eyebrows after making comments about the historic treatment of African-Americans.
Suffice to say, the interview has landed Robertson and his TV show in hot water.
The Anti-Gay Remarks
The 67-year-old Duck Dynasty star initially sparked backlash after participating in an interview with GQ Magazine, in which he reflected over his own personal outlook on what constituted sinful behavior. Speaking to reporter Drew Magary, Robertson started off explaining – what he perceived to be – the blurring of right and wrong:
"… everything is blurred on what's right and what's wrong … sin becomes fine… Start with homosexual behavior and just morph out from there – bestiality, sleeping around with this woman and that woman and that woman and those men."
Robertson then attempted to quote Corinthians, seemingly, in an attempt to substantiate his point, before going on to expound upon the apparent virtues of heterosexual practices:
"It seems to me, a vagina – as a man – would be more desirable than a man's anus… That's just me. I'm just thinking, 'There's more there! She's got more to offer.' I mean, come on, dudes! You know what I'm saying? But hey, sin: It's not logical, my man. It's just not logical."
Naturally, after GQ disclosed Robertson's inflammatory sentiments, a chorus of unhappy voices sounded out, denouncing the Louisiana man's statements. GLAAD issued their response, excoriating his remarks. GLAAD spokesman Wilson Cruz claimed the patriarchal leader of the Duck Dynasty clan was spreading "… lies about an entire community [that] fly in the face of what true Christians believe."
Meanwhile, a number of conservative politicians sided with Robertson. Sarah Palin, Texas Senator Ted Cruz, Louisiana Governor Bobby Jindal and radio talk show host Sean Hannity all criticized Robertson's suspension, principally, on the grounds that it breached his First Amendment right to free speech.
A slew of people also took to Facebook to offer their support to the Duck Dynasty celebrity. An entire Facebook page, entitled "Boycott A&E Until Phil Robertson Is Put Back On Duck Dynasty," was created, just 14 hours after the star's suspension was announced. At the time of writing, the page has received over 1.4 million likes.
Meanwhile, other Duck Dynasty fans were not so appreciative of his references towards the homosexual community. One particular Facebook user discussed plans to burn all of their Duck Dynasty possessions:
"Sorry Duck Dynasty! You were my favorite show. Today I am burning all T Shirts I have of you guys and all DVD's. I am no longer a fan of your show [sic]."
British journalist Piers Morgan, host of CNN's Piers Morgan Live, recently took to Twitter to blast Robertson's remarks:
"Phil Robertson is not a 'victim of political correctness'. He's a victim of his own repulsively racist, homophobic bigotry. #DuckDynasty."
In the aftermath, the future of Duck Dynasty was called into question. The show's cable and satellite TV channel, A&E, attempted to mitigate the fallout from the interview. In a statement, the cable group stated that Robertson's remarks stemmed from his own personal beliefs and were not reflected in their show:
"His personal views in no way reflect those of A+E Networks, who have always been strong supporters and champions of the LGBT community."
Ultimately, on Dec. 18, 2013, A&E placed the star on indefinite hiatus for voicing his divisive opinions to GQ Magazine.
African American Comments
The controversy, now in full swing, was only heightened when more details from the candid interview were unearthed. Robertson also conversed about the pre-civil rights era, inferring that black people had been contented during this turbulent period:
"I never, with my eyes, saw the mistreatment of any black person… Not once. Where we lived was all farmers. The blacks worked for the farmers. I hoed cotton with them. I'm with the blacks, because we're white trash. We're going across the field…. They're singing and happy. I never heard one of them, one black person, say, 'I tell you what: These doggone white people'—not a word!… Pre-entitlement, pre-welfare, you say: Were they happy? They were godly; they were happy; no one was singing the blues."
The National Association for the Advancement of Colored People (NAACP) and the Human Rights Campaign collaborated in producing a letter to the president of A&E. Throughout the letter, the organizations expressed great worry over Robertson's commentary on African Americans and members of the lesbian, gay, bisexual, or transgender (LGBT) community.
Describing his remarks as "dangerous and inaccurate," the letter explained the hardship that black men and women experienced prior to the Civil Rights movement, whilst Jim Crow laws were still in place – laws that enforced racial segregation throughout the U.S., between 1876 and the 1960s, and propagated economic and social disadvantage among African Americans:
"Mr. Robertson claims that, from what he saw, African Americans were happier under Jim Crow. What he didn't see were lynching and beatings of black men and women for attempting to vote or simply walking down the street."
The letter went on to criticize Robertson for making offensive claims about gay individuals, stating that every leading U.S. medical organization has said there is "… absolutely nothing wrong with being LGBT."
Robertson Family Questions Future of 'Duck Dynasty'
The Robertson family have jumped to the defense of Phil Robertson, questioning whether Duck Dynasty can continue without him. In a statement
released on the Duck Commander website on Thursday, the family emphasized their religious background, as well as Phil's firm belief in the Bible. They highlighted their disappointment in A&E's decision to place one of their family members on hiatus, claiming it is his "constitutionally protected right" to express his faith.
During the statement, the family went on to convey their uncertainty over the show's direction, in the absence of The Duck Commander. Despite claiming to have had a successful working affiliation with A&E in the past, the family now appear to be reviewing their relationship with the cable channel:
"… we cannot imagine the show going forward without our patriarch at the helm.  We are in discussions with A&E to see what that means for the future of Duck Dynasty."
Although the family confessed Phil's words were "coarse" and "unfiltered," they argue that he would never attempt to incite hatred.
Meanwhile, the fifth season is slated to premiere on Jan. 15, 2014; beyond this, however, the future for Phil Robertson and Duck Dynasty remains decidedly uncertain.
By James Fenner
Sources: