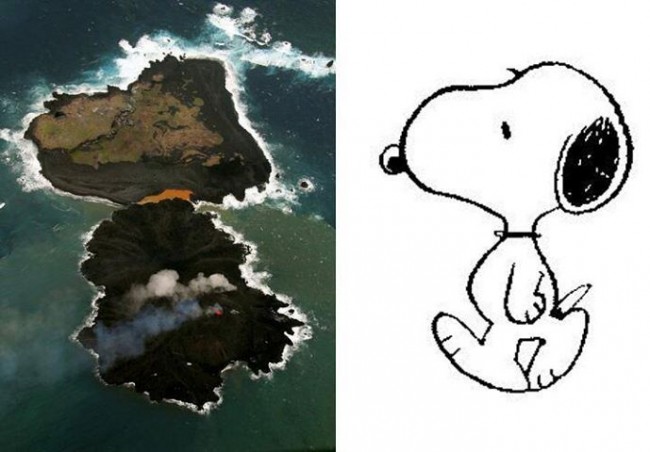 The so-called Snoopy Island, officially called Niijima, has been awarded the Global Post's End of the Year Award for Best Island of 2013. It's called by many people who see an aerial view of it "Snoopy Island" because of its current resemblance to Charlie Brown's dog, even down to the red collar.
The Global Post gave its Rock of the Year Award to the Rock of Gibraltar, but it's very fitting that it gave the award for Best Island of the Year to Niijima, because the island was born in November 2013.
Also, many scientists thought that the new island wouldn't make it for very long, that it might sink below the sea waves from whence it had arisen, or that it might be battered by the waves until it crumbled away and disappeared, which is the fate of many newly-formed volcanic islands But, Niijima defied the skeptics and the elements, and it has not only survived, but has thrived.
Niijima, or Snoopy Island, was created by two active volcanoes. It is the newest member of the Bonin Islands, and it's about 177 miles from the Japanese mainland and roughly 620 miles south of the capital of Japan, Tokyo. The new island is located directly along the Pacific Ocean's "Ring of Fire" an area which is noted as being an extremely active region of the world for volcanic eruptions to occur.
The new island has merged with the island of Nishinoshima (西之島, Western Island), and it's continuing to grow. The merging of the two islands is what has caused the temporary resemblance to Snoopy. Unfortunately, as the island continues to grow, the resemblance to the cartoon beagle will likely fade away.
The reddish "collar" of Snoopy Island is actually reddish-colored seawater that is there at the "neck" of Snoopy Island, and the color is presumably caused by molten magma.
The Snoopy Island, or Niijima, is currently off limits, because, according to Japanese authorities, it is still considered to be dangerous, as the dual volcanoes are quite active.
Snoopy Island tripled in size within the first month it appeared, to almost a third of a mile across. It was only last week that Niijima made the merger with Nishinoshima Island. Even now, the two volcanoes belch smoke into the sky the length of a football field every 30 seconds.
How long will Niijima Island also resemble Charlie Brown's closest friend, Snoopy? Only time will tell, but for fans of the Peanuts cartoons originally drawn by Charles Schultz, the resemblance to the cartoon dog is an example of life imitating art on a large scale.
Niijima Island is already losing its identity as a separate island, since it joined up with its "mama," Nishinoshima Island. Still, for however brief a span of time, Niijima Island's temporary resemblance to Snoopy has added to the new island's fame.
Written by: Douglas Cobb