A recent investigation conducted by Consumer Reports claims that artificial coloring added to many soft drinks could present a potential health risk. After testing a variety of commercially successful sodas, including Pepsi One and Malta Goya, the group indicate that some of this artificial coloring could comprise a "… potentially harmful chemical," called 4-methylimidazole (a.k.a. 4-MeI).

According to a report published in 2013, produced by Mintel and Leatherhead Food Research, caramel color is the most commonly implemented coloring around the globe for food and beverages.
A number of individuals and agencies have offered their caution over 4-MeI. The World Health Organization's International Agency for Research on Cancer has listed the chemical as being a possible cancer causing agent, while the State of California – under California's Proposition 65 law – has placed a limit on the amount of caramel color that can be added to foods and beverages, before a health-warning label must be applied to the manufacturer's packaging. Among the chemical's detractors is Urvashi Rangan, who works as a toxicologist and executive director of Consumer Reports' Food Safety & Sustainability Center. He argues against overuse of 4-MeI in food, explaining that lower 4-MeI alternatives are available:
"Manufacturers have lower 4-MeI alternatives available to them. Ideally there would be no 4-MeI in food."
The Study
Consumer Reports found country-wide variations in the levels of 4-MeI identified within different soda beverages. A clear example of this was found when purchasing Pepsi One from in a New York store in December and comparing its 4-MeI levels to Pepsi One purchased from a store in California, during the same month. Startlingly, the group found there to be four times the amount of 4-MeI in the New York Pepsi One, compared to the same product obtained in California.
Consumer Reports tested a total of 81 cans and bottles, of a number of popular soft drink brands, from five manufacturers. Testing commenced between April and September of last year, with drinks procured from stores across California and New York. In December 2013, returning back to the same regions as before, the group purchased 29 new samples of the same soda brands that were originally examined during the first round of testing. Those samples that had been previously found to contain 4-MeI levels greater than 29 micrograms per can or bottle, were investigated on a second occasion.
In both locations, Pepsi One and Malta Goya brands, allegedly, contained 4-MeI levels that were in excess of 29 micrograms per can or bottle, during both testing rounds; Consumer Reports notes that the products purchased from California failed to display the health-warning label.
During the first round of testing, California soft drinks appeared to have 4-MeI levels that were "… around or below 29 micrograms per can." Meanwhile, samples from New York were discovered containing much greater levels. The afore-mentioned caramel color levels, in soda drinks sampled across New York, appeared to fall during the second round of testing for most of the analyzed drinks; regular Pepsi samples contained 174 micrograms during initial testing, but only 32 micrograms during round two. Although slightly reduced, the 4-MeI levels appeared to remain elevated in Pepsi One and Malta Goya samples collected from New York stores, during the second round of testing.
Coke, Diet Coke and Coke Zero had an average of under five micrograms per can in the Consumer Reports investigation. The group's experts consider these levels to represent a "more acceptable" amount of the caramel color. Sprite was also tested as a control and did not show any significant levels of 4-MeI.
The Future
Consumer Reports made contact with PepsiCo and Goya to enquire as to whether they considered their products are compliant with Californian state law. A PepsiCo representative had the following words to offer:
"When the regulatory requirements changed in California, PepsiCo moved immediately to meet the new requirements."
The representative went on to explain that reformulated products, comprising of reduced levels of 4-MeI, are slated for release across the nation, during February 2014. When informed of Consumer Reports' findings, PepsiCo issued a statement justifying the levels of 4-MeI found in their soft drinks. The company claims that Proposition 65 is principally based upon exposure per day, rather than exposure per can. PepsiCo cited government data, which states the average daily consumption of diet soda to be 100 milliliters – less than one third of a can. On this basis, the company considers a warning risk is not mandated.
Meanwhile, Malta Goya failed to respond to Consumer Reports' queries.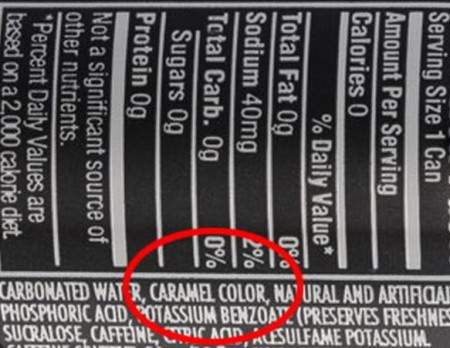 Consumer Reports explains that Consumers Union is now working towards achieving several goals, in light of their recent study. The organization is informing the California Attorney General's office of the amount of 4-MeI found in Pepsi One and Malta Goya soft drinks, throughout California. Currently, the FDA does not define a federal standard for 4-MeI levels; Consumers Union are petitioning the FDA to set new standards for 4-MeI and to ensure manufacturers list the four types of caramel coloring present within their drinks, since two of these colorings contain 4-MeI.
The FDA released a statement claiming they did not believe 4-MeI poses any risk to the consumer, at the levels currently found in food and beverages. The agency is currently performing their own tests into the levels of 4-MeI in food and drinks.
In finding that many of the nation's soft drinks contain the potential carcinogen, 4-MeI, Consumer's Union has setup a website where people can discuss their concerns. The site is called NotInMyFood.org, and consumers are able to sign a petition to request improvements to the current labeling system, as well as a reduction in the levels of caramel color found in the foods and beverages they consume.
By James Fenner
Sources: