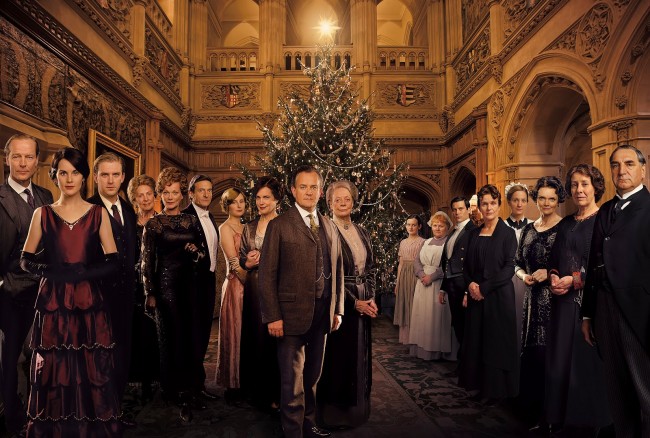 The phenomenal success of Downton Abbey can be summarized in one sentence: it is the 21st century American television audience's love affair with early 20th century Britain. On the opening night, the American viewership of 10.2 million for PBS's Downton Abbey easily surpassed viewership for such hits as AMC's Mad Men (3.4 million); HBO's Game of Thrones (4.4 million) and the finale of NBC's Homeland (2.4 million).  Further, its premier nearly equaled the viewership for the finale of Breaking Bad (10.5 million) and the premier of Scandal (10.5 million).
The success of Downton Abbey can be put down to two factors: one, that drama is alive and thriving in America; and two, the genre of romance has an everlasting appeal for the American television audience in an age of violent and over-sexed soaps.
Downton Abbey is a runaway success with the American television audience because, in this fast-paced hectic life style of today, it paints a nostalgic picture of an easy-paced era long gone by. It is a time and age so different from today that it holds a great charm for the lay American television audience–though there is nothing spectacular about the story line of Downton Abbey, as it is no sci-fi adventure or a computer-generated graphic bonanza. This drama, written by Julian Fellowes, is an accurate portrayal of the early 20th century life of the British aristocracy. Life as depicted in Downton Abbey is no different from the trials and tribulations of a rich family in America during the same time in history.  The only difference perhaps is that "the grass is always greener on the other side of the fence," and this is the reason for this American television audience love affair with Britain.
Downton Abbey is a hit, not only in the United States, but in Asia and Europe as well. It is a favorite with television audiences in Spain, Italy and, surprisingly, France also. Intriguing, because the French stay miles away from and are vociferous critics of anything British. Downton Abbey seems to ooze such magical charm that even the French, who themselves are past masters in matters of the heart, are not able to dismiss it.
The plot of Downton Abbey revolves around Robert (Hugh Bonneville), Earl of Grantham, the fumbling aristocrat, and his family. He is in some kind of financial mess in every episode and it is the character of Violet (Maggie Smith), Dowager Countess of Grantham, who proverbially saves the day, and consequently the finances and reputation, of Robert. Robert is by design portrayed as a stubborn, fumbling British aristocrat with very limited vision and an acutely bad sense of judgement, especially of character. Both these protagonists give a convincing and sterling performances each episode and are a major factor contributing to the success of Downton Abbey.
It is remarkable that Downton Abbey is screened in the fall in Britain and in the winter in the United States, meaning thereby that a discerning television viewer in America knows beforehand what will transpire this season. Still, millions expectantly await the show and avidly watch it when it premieres here. This is the fourth season of the drama and it has not lost it freshness and universal appeal from the time it was first telecast in 2010 in Britain.  This fact goes on to prove that Downton Abbey is, in fact, a real-life love affair of the American television audience with Britain.
By Iftikhar Tariq Khanzada
Sources:
Global Post