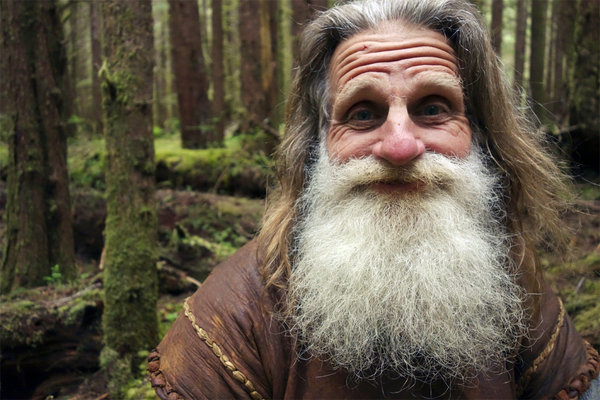 While the appeal of living life completely off the grid is a rare and improbable proposition in most people's minds, the National Geographic Channel is capturing it in its rawest form with Mick Dodge, who has been doing it for the past twenty-five years.
One of National Geographic's newest series is The Legend of Mick Dodge, which features the ex-marine and former martial arts fighter. Almost three decades ago, Dodge made the decision that "the modern world wasn't for him." He became a nomad of the Hoh Rainforest, but unlike the iconic nomad Christopher McCandless – whose lonesome and solitary journey from civilization was depicted in Sean Penn's film Into the Wild back in 2007 – Dodge certainly is not portrayed as disconnected or as anti-society as McCandless seemed to be.
In fact, he may be the most contemporary example of straddling the line between two vastly different worlds – living completely off the grid in parts of his life, and interacting with the modern citizens of the 21st century. Mick Dodge seems to have embraced living on both ends of the spectrum as captured by National Geographic Channel's film crew, and part of his audience appeal may be that while his choice to live off the grid seem wild and improbable, he is surprisingly affable in front of the cameras.

Dodge keeps himself physically fit and runs an Earth Gym. He teaches people to exercise without the "traditional gym machines," using the natural environment around them. He is a versatile eater, not one to abhor modern food when it's available: "I eat food, sometimes insects, sometimes pizza…[I] have explored how to eat in all these terrains."
As Dodge said in the series promotional clip, "There was this excitement and adventure I found by stepping out of the modern world…so I took off on my barefoot journey."
His ability to live in both worlds, focused on foraging and the necessities of living while interacting with the film crew seem almost too surreal for some people, while other fans have embraced it on Twitter:
Amidst the demands of modern living – which include the average American worker putting in 1,790 hours in 2012, and where minimum wage is hardly equivalent to a livable wage – Dodge provides a close-up into a life that can hardly be attained through the most rugged of all modern-day camping trips or expeditions.
In Dodge's world, there is the constant reality of hunger, met as he forages for larvae, plucks plants for breakfast and is quick to utilize the same tub to both cook his food and bath when the opportunity arrives.
He has managed to live off the grid, yet somehow, has found a way to dance with modernity and the camera in a way that entertains and both poses the question for his audience – what if life could be different?
Dodge captivates his audience with incredulity at his survival tactics and his breaking of modern society's many rules around living. As a first-hand witness, the National Geographic Channel is not only capturing Dodge's travels and travails living off the grid, but also appealing to the remarkable ability of one man chosing to shed the elements of modern civilization for a freedom that is not so easily understood by many.
By Joscelyne Yu
Sources
Business Insider
Men's Journal
National Geographic Channel
Organization for Economic Co-operation and Development
The Globe and Mail