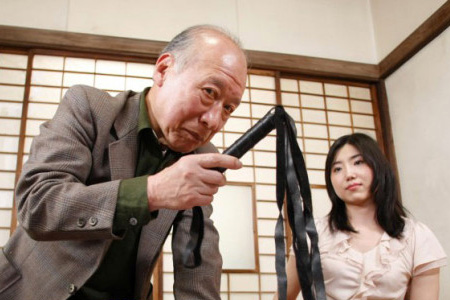 It's never too late to be a (porn) star. Shigeo Tokuda, 79,  called "king of elderly porn" is Japan's oldest porn star. Born in 1934, Shigeo Tokuda began his pornographic career at age 59. After his retirement, he had nothing to do, so he took up this job. To date, he had starred in more than 350 adult movies.
This porn star is described as ''master of sex'' in Japan, even though he hasn't been porn star all his life. Rather, he worked all his life as a travel agent after graduating from one of Tokyo's top-notch colleges. Shigeo Tokuda is no different from any other typical Japanese man at his age. He had a heart attack a few years back, but he feels much healthier now. Of course, Shigeo Tokuda is more physically active than most retirees. He says his job makes him keep alive.
Shigeo Tokuda is actually his film name, as he does not want to reveal his actual name. He intends to keep his part-time-job secret from his wife and daughter, and they pretend not to know about it.
Being the oldest porn film star in Japan, Shigeo Tokuda proved that the sex lives do not end with old age. During his more than two decades of filming career, he has acted with women ranging from their twenties,who are young enough to be his granddaughters, to as old as himself. He, however, prefers to work with the women in their thirties.
Initially, it took Shigeo Tokuda a few years to make up his mind before he finally stripped his pants off for the camera. He said he wanted to do something that ordinary people did not do, so he decided to be a porn actor. Since then, he has become a popular figure in adult movies for rent in Japan. After being featured in a CNN report, Tokuda became known in the west as well.
Tokuda is married with two adult children and a grandchild. He made his debut in 1994, after a meeting with a porn director in Tokyo. Now Shigeo Tokuda is not only famous as the oldest porn actor in Japan, but he is also a brand.
Japan is an aging country, where one in five Japanese is over 65 years old. This figure is expected to increase to about 40% by the year 2055. Porn films, especially "elder porn," in recent years have turned into a billion-dollar industry in Japan. Tokuda's films are reportedly expected to be offered to Japanese retirement homes, and they might be shown on the Internet too.
According to a report published in The Guardian, people under the age of 40 in Japan seem to be losing interest in traditional relationships. Millions don't even date, and growing numbers can't be bothered with sex. Japan already has one of the world's lowest birth rates, and the number of single people has reached a record high. A survey in 2011 found that 61% of unmarried men and 49% of women aged 18-34 were not in any kind of romantic relationship. Another study found that a third of people under the age of 30 had never dated at all.
By Rahad Abir
Sources: