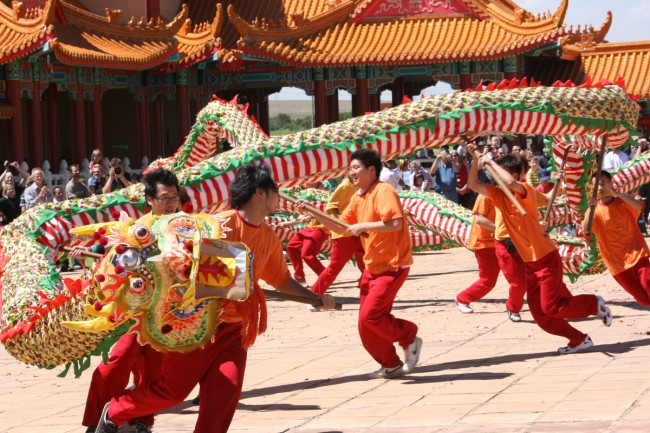 This Chinese New Year marks the beginning of the Year of the Horse, a time when many Chinese families are following centuries-old traditions to manifest good fortune and prosperity.
What is the Chinese New Year? While many cultures adhere to the solar calendar that marks the New Year on January 1, the Chinese followed a lunar calendar for centuries, tracking the cycles of the moon rather than the movements of the sun. While China has since adopted the Western model, the two weeks around the beginning of the lunar year are still celebrated with good food, colorful decorations and family time, culminating in an ornate Lantern Festival. Here are some traditional beliefs and practices designed to bring good luck in the upcoming lunar year.
It is very important to clean the home for the holiday, but not the day of; sweeping and cleaning the home on New Year's is considered bad luck, because the brooms might just "sweep out" the good fortune that people are trying to manifest. The day before the lunar New Year begins, the home is cleaned very thoroughly and old food in the cupboards is thrown out.
Red is considered a lucky color in Chinese culture; this is why gifts are given in small, red envelopes called hong bao during Chinese New Year. Decorating the home with red and wearing the color is meant to bring good luck, so Chinese homes are strung with bright red banners on this day. Because the holiday is considered a celebration of springtime, many Chinese families also bedeck their homes with spring blossoms and bulb flowers such as daffodils. To manifest wealth in the New Year, Chinese families fill a bowl with uncooked rice and place it in a prominent location in the home; rice is a symbol of wealth and prosperity. To invite health and longevity, gold items and oranges are placed on the table.
On New Year's Eve, Chinese families reunite for a large dinner; not only to bring about well-being and good fortune, but to catch up with each other and enjoy the holiday. Certain foods are considered very lucky during this time of year. Because the holiday celebrates the moon, foods that are moon-shaped are very popular. Dumplings are found on the menu, but so are very long noodles, meant to bring longevity to those who eat them. Mandarin oranges are often present, since their round shape and golden color are reminiscent of gold coins, a perfect symbol for manifesting wealth in the Year of the Horse. Sometimes real coins are inserted into various dishes, bringing luck to whoever finds them. The family will often spend the whole day cooking the meal together, then sit down to eat at midnight.
After the festivities have ended, the hong bao envelopes are often filled with candy and money and placed under sleeping children's pillows to open when they wake on New Year's Day.
The Lantern Festival is held on the 15th and final day of the holiday. Families walk the streets holding illuminated paper lanterns to guide spirits who have lost their way. The two week celebration also includes the tradition of setting off firecrackers to scare away bad spirits and remove negative energy; exactly what's needed to manifest good fortune and positivity in the Chinese New Year. Gung hei fat choy! (Happy New Year!)
By Lauren Martin
Sources:
International Business Times
Fox News
Chicago Tribune
Chinese Parade