A 'Dumb' Starbucks Coffee shop has been opened in Los Angeles' Los Feliz. The faux store is apparently claiming to be operating under the protection of the "Parody Law" which it argues allows it to use the name and trademark of famous coffee company as long as it is using those proprietary things as part of a parody. Since the new store dons the name 'Dumb' prior to the famous Starbucks Coffee title, this, at least in the eyes of the owners, represents enough of a parody for the store to lawfully operate.
Once only somethings that bored students might say when they have nothing else to do, if one now were to suggest heading to go grab some "dumb Starbucks Coffee," one would be referring to an actual store that exists in Los Feliz, in Southern California. The new coffee shop, which appears to have arisen out of thin air without much prior noise or marketing, styles itself a complete parody by placing the word 'Dumb' before all the things which would normally be found within a true Starbucks Coffee franchise location.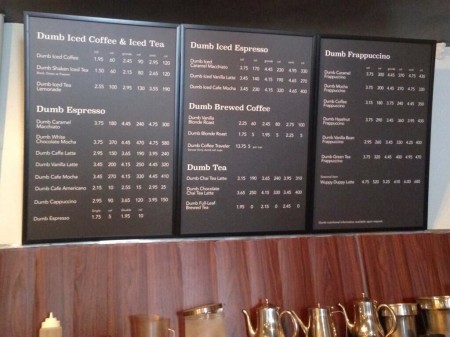 Just as would be seen in your everyday Starbucks franchise coffee shop, the new pop-up business has a menu which mimics every option including names and sizes of drinks, with the single addition of the word 'Dumb' to keep up the parody act.
The store's owner has not yet been identified, and the question is being asked far and wide now, "just who exactly is behind this clever little endeavor?"
While attempts to discover the owner behind the new shop have not revealed much information, it is clear that the clever but less-than-original coffee shop is having no trouble drawing enough attention to itself.
Droves of people lined up to get a peek at what exactly this new 'Dumb' Starbucks Coffee shop was all about. The shop for now is offering free coffee and pastries to people, which appears to be one surefire way to draw a decent sized crowd. One barista apparently stated in an interview that the reason the shop is short staffed is that "his boss" was not prepared for the incredible flow of traffic. The barista also reportedly said that he was hired on the popular site, craigslist. Through all of that there has been no public acknowledgement from anyone claiming to own the store.
The new 'Dumb' Starbucks Coffee shop has served quite a few patrons some free coffee and pastries, and has managed to make quite the buzz in social media circles. Patrons tweeted out their comments and photos of the new faux store.
The Parody Law, the legislation being used by the new store to legitimize its operation as legal, is a law that makes some allowance for the fair use of proprietary trademark information for cases such as a parody.
So it is that the new coffee spot states in a letter to would-be patrons that although it is a business, for legal purposes it is a parody and coffee is the art that it is offering to its consumers.
For now, there is a mysterious new 'Dumb' Starbucks Coffee shop in Los Feliz calling itself a parody and getting a whole lot of attention. Just who is behind this little stunt has yet to be reported, but the secret is not likely to kept for long with the level of attention Dumb Starbucks is getting.
Editorial By Daniel Worku