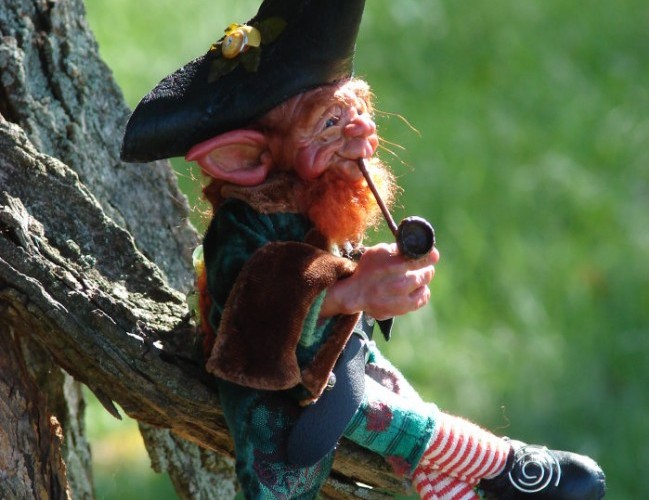 One of the most recognizable characters in Irish folklore is that of the leprechaun. This diminutive fairy takes the shape of a small man portrayed as a shoe cobbler with a pot of gold hidden at the end of a rainbow. Along with other fairies, they are referred to as the "wee people." Stories about their influence, magic and contributions to Irish culture abound, especially around St. Patrick's Day, and are carefully preserved at the National Leprechaun Museum in Dublin, Ireland.
Leprechauns were first mentioned during the Middle Ages in a story about one of the kings of Ulster, Fergus mac Léti. According to legend, three water sprites attempted to drag him out to sea while he was sleeping but the cold water woke him and he caught his captors. They granted him three wishes in exchange for their freedom. These water sprites were called lúchorpáin.
Nobel Prize winner and Dublin native poet and author, William Butler Yeats (1865-1939), wrote a lot about Irish myths and folklore. His stories reflected his fascination with the otherworld and gave great insight about leprechauns. In his book, Irish Fairy and Folk Tales, his section about "solitary fairies" described the nature of the leprechaun from his social habits, style of dress, to how he obtained his wealth.
Contrary to popular stereotypes, it is the solitary leprechaun who wears a red jacket whereas the more sociable ones wear green jackets. They constantly make shoes and their pots of gold were previously buried during wartime. One footnote in Yeats' book is of a peasant who was watching a battle between the red jacket and green jacket leprechauns. When he saw that the green jackets were defeating the red, he shouted for joy. All the leprechauns vanished in an instant and the peasant found himself in a ditch.
The National Leprechaun Museum was founded four years ago in March 2010 to preserve Irish folklore and mythology. Visitors experience the world as a leprechaun sees it with over-sized chairs and giant tea cups. Storytellers captivate listeners with tales of the wee people and other members of the supernatural. Tours are available during the day and are tailored to be age-appropriate for school groups.
Night programs are also available that focus more on the dark side of Irish mythology. These are interactive with audience participation and are recommended for adults only.
As part of the St. Patrick's Day celebration, the museum is hosting its own event scheduled to start after the parade. Children and adults are invited to the first Dublin Catwalk, held in Wolf Tone Square beginning at 2:00 p.m. It is a chance to participate in costume contests all in fun with music provided by the museum's own Cellí Band.
During the celebration, a visitor just might see a small figure of a man with a beard taking a break from making shoes to enjoy the party. He will be wearing a hat, smoking a pipe and sporting either a green or red jacket. As sure as he knows he has been spotted, he will quickly disappear. For more information about the National Leprechaun Museum and how it has worked to preserve Irish folklore, the website link is provided below.
By Cynthia Collins
Sources:
National Leprechaun Museum – St. Patrick's Day Event
Yeats, W.B. Irish Fairy and Folk Tales. New York: Fall River Press (reprint of public domain work)