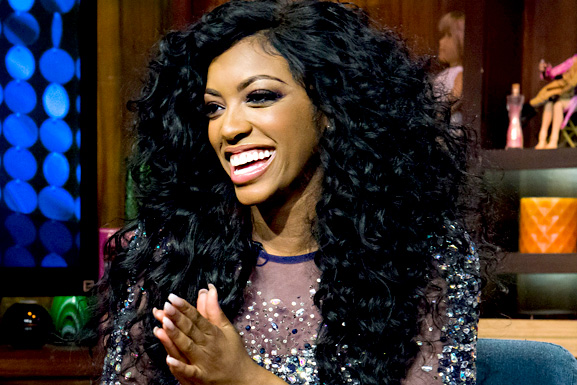 Real Housewives of Atlanta has had its share of bad publicity lately. With alleged bank fraud, identity theft, FBI investigations, divorce, a possible "down-low" husband and physical altercations resulting in cracked ribs, the list goes on. But the reality series still manages to be one of Bravo's most-watched reality shows.
But, the African-American community is questioning whether to continue supporting the show because some believe it is not a realistic or favorable representation of their culture. As if the violent and corrupt depictions of a community demonstrated both on and off camera this season were not enough, many believe Porsha Williams has taken it to a level of shame and embarrassment for African-American women.
Williams, the granddaughter of civil rights activist Hosea Williams, has stunned many fans with her, as Wendy Williams describes it, "less than smart" behavior and comments. From stating that the Underground Railroad was actually a train that took slaves to freedom to her most recent interview on Bethenny that left viewers and the talk show host herself looking at the 32-year-old with much concern. Williams sat on Bethenny's stage revealing to viewers that, even though she was living a lavish lifestyle purchasing $3,500 shoes, wearing high-end designer labels and going on exotic vacations, she could not afford health insurance. She explained that her then-husband, former NFL star Kordell Stewart, only had health insurance for himself.
Many fans, stunned and confused, are trying to make sense of the expensive lifestyle Williams portrays on the Real Housewives of Atlanta because of her husband, and she never thought to get health insurance or save her allowance. While millions of Americans get up to go to work everyday and struggle to obtain health insurance, Williams, a housewife, chose to fill her closet with bling and purchase hair rather than apply for health insurance.
Williams has reportedly said she did not want anything from her highly publicized divorce from Stewart. She reportedly only wanted him to pay her health insurance and allow her to keep her vehicle. Many women opt to walk away from a divorce court battle with nothing but peace of mind, knowing they have the capability to start over strong. In Williams' case, however, many question if she opted to walk away with nothing because she was reportedly losing the battle. Stewart explained on the reality series that Williams wanted things she could not have.
Stewart went on to further reveal that Williams was financially irresponsible prior to their marriage, losing her condominium because she failed to pay the taxes on her property. Stewart could not risk losing everything he acquired from his football career by putting Williams' name on their assets. Williams had captured the sympathy of many fans when Stewart filed for the divorce. But as she continues to open her mouth to explain the complexity of her marriage and financial situation, she paints a less than favorable picture of herself, possibly causing many women across the country to drop their heads in embarrassment for the reality star.
When the couple separated, Williams was seen on the show renting an 8,000 square foot house to live in alone. Her castmates, as well as many of her fans, did not understand why the aspiring Flatline singer would make such a major purchase while her finances were reportedly shaky. Williams has been reported to be driving a Rolls Royce around Atlanta and wearing a tiara flashing her designer labels. As many continue to raise an eyebrow at Williams, it is also reported that she has found what many believe to be a "new sponsor" to take care of her.
Forty-two-year-old Teodoro Nguema Obiang Mangue, the son of the ruler of Equatorial Guinea, could possibly be the new sponsor lavishing Williams with flashy gifts. Though both are reportedly denying this, the question still remains how the divorcee is living the high life. When talk show host Bethenny asked Williams who was giving her such elaborate gifts, Williams laughed and said, "Friends." Not that it is anyone's business, but Williams is making the talk show rounds to make her business public.
Respected castmate Kandi Burruss is reportedly worth $35 million as a single woman with legitimate and successful businesses and royalty checks from songwriting. Burruss, however, does not live the same lifestyle that Williams lives. Burruss has warned Williams on the show to live below her means and gave Williams an opportunity to tap into her own power in the theater production of A Mother's Love.
Though the Real Housewives of Atlanta is drama filled and catty, the other castmates are viewed by many as intelligent, business savvy women with strong personalities. Much of the public, however, question Williams' level of smarts and if she has possibly fallen into a Pretty Woman situation. While Burruss is a strong, independent woman that many young girls can look up to and aspire to follow in her shoes on her road to success and wealth, not many can say the same for Porsha Williams. Women, no matter what cultural background, have made strides economically by running their own businesses, building empires across the country starting from the bottom with nothing. Williams was given a privileged life because of Stewart, but she possibly chose to invest in Louboutin shoes instead of in herself.
As young girls watch the Real Housewives of Atlanta reality star giggle and laugh while saying her lavish lifestyle is due to her "friends," many embarrassed women are hoping that, besides a Chanel bag and Jimmy Choo shoes, her list will also include maturity, self worth, pride, strength and independence.
Editorial by Meleika Gardner
@IAMMeleika
Sources:
Bethenny
Christian Post
Celebrity Networth