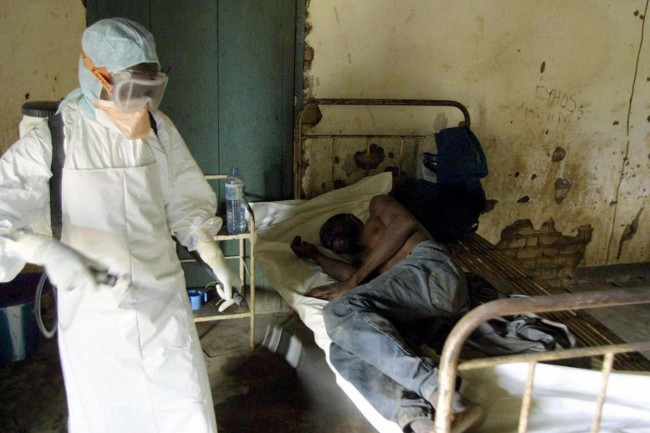 An outbreak of viral hemorrhagic fever has erupted in the West African country of Guinea claiming the lives of 59 people, and leaving others gravely ill, was said to be caused by the Ebola virus. As the death toll continues to climb, officials with the World Health Organization (WHO) fear the outbreak may have spread to nearby Sierra Leone, where one fatality has been reported thus far.
Ebola is a severe and often fatal disease that affects and kills up to 90 percent of humans infected with the virus. All together, there are five different types of the Ebola virus, with four of them reported to have the capability of causing disease in humans. The Ebola virus is passed to humans through close contact with animals that are carrying the virus such as fruit bats, monkeys, gorillas, and chimpanzees.
Once humans are infected with Ebola, they become highly contagious and pass the virus on to others who come in close contact with them either by exposure to objects that have been contaminated with the infected persons blood or bodily fluids or direct contact with the infected person's blood or bodily fluids.
The incubation period for Ebola viral hemorrhagic fever is typically one week, during which time, the infected person will suffer from an array of symptoms such as fever, chills, back pain, vomiting, and diarrhea. As the virus progresses, those infected will experience a rash over their entire body, swelling of the eyes and genital area, bleeding from the mouth, nose, eyes, ears, and rectum, followed by shock, coma, and death in many cases.
A complete blood count test (CBC), coagulation studies, or a liver function test is often used to confirm cases of Ebola. After viral hemorrhagic fever erupted in Guinea, thought to be caused by the Ebola virus, twelve samples of blood were sent to a laboratory located in Lyon, France for testing. Six of the samples tested positive, confirming that the outbreak of viral hemorrhagic fever in Guinea was indeed caused by the Ebola virus.
To date, approximately 80 suspected cases of Ebola viral hemorrhagic fever have been reported and of those 80, 59 people have succumbed to the deadly virus. However, Dr. Sakoba Keita, head of Guinea's health ministry division for prevention of epidemics said it is necessary "to understand that not all the cases are necessarily due to Ebola viral hemorrhagic fever," and that in fact, "some cases will have other origins all together, including a form of severe dysentery."
The World Health Organization (WHO) is closely monitoring the situation and said that similar cases demonstrating like-kind symptoms such as fever, diarrhea, vomiting, and bleeding have also been reported in nearby area of Sierra Leone. Dr. Brima Kargbo, the chief medical officer in Sierra Leone is currently investigating the case of a 14-year-old boy who died in the town of Buedu after returning from Guinea where he attended the funeral of one of the victims there.  In addition, Kargbo has dispatched a medical team to the town of Buedu to test anyone who came in contact with the 14-year-old boy prior to his death from Ebola viral hemorrhagic fever.
While there is no cure for Ebola, there are medicines available to help fight the virus. Patients are often hospitalized and require intensive care both to save their lives and prevent the spread of the deadly disease.
In the wake of the outbreak, the international charity, Medecins Sans Frontieres (MSF) has begun setting up isolation units within three different towns in Guinea and have sent 33 metric tons of medicine and equipment needed to battle the deadly disease. Dr. Esther Sterk with the MSF said, "These structures are essential to prevent the spread of the highly contagious disease." Sterk went on to say that specialized staff members are providing care to all patients of the erupting outbreak in Guinea who are exhibiting any signs of viral hemorrhagic fever caused by the Ebola virus.
By Donna W. Martin
CDC
Medline
Chicago Tribune