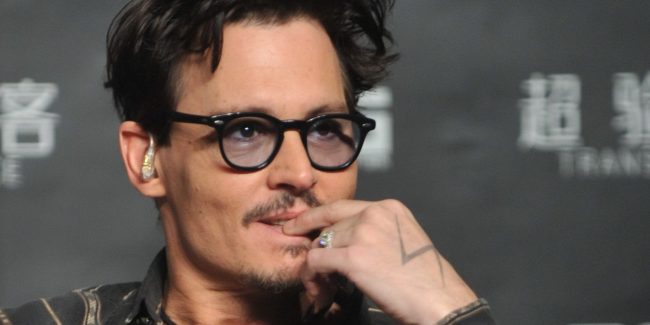 Johnny Depp is wearing a "chick's ring," and has finally announced that he is engaged. The was asked while in Beijing yesterday, and gave a slightly cryptic but honest answer.
Why would the 50-year-old choose to wear a ring made was a woman? It turns out that the band with a single diamond was going to be Amber Heard's ring, but it was too big. Instead of getting it resized or taking it back, he decided to wear it himself and show off to the world that he is not afraid to show some femininity. This reason comes from a source who told Us Weekly.
Depp is usually extremely quiet about his personal life, so it is big news that he chose to confirm this. However, the engagement has been a rumor that has been going around for a few months now. It was linked to other rumors, that included Angelina Jolie wanted him to think twice about opting for this marriage because she did not trust Heard.
The two have been together for around 18 months, after meeting on the set for The Rum Diaries. Jolie worries that Heard is just after his money, but she has a good career of her own.
As well as confirming that he is engaged, the Lone Ranger star made it clear that he probably would not be dealing with any of the wedding planning. According to him, he is  useless at planning anything. That may be how Depp ended up buying a ring that was too big for his fiancée and is now wearing a "chick's ring."
This is the second marriage for the legendary actor. He was married for two years during the 1980s to Lori Anne Allison. However, his longest relationship was for 14 years to Vanessa Paradis, who he has two children with. They split up in June 2012, just before Depp and Heard announced that they were dating. There was some speculation that Heard caused the breakup, but the couple were estranged for some time. Paradis is also happy for her ex-boyfriend and hopes the two have a great life together.
The 50-year-old actor reportedly proposed to Heard on January 17, but it was 10 days later that the 27-year-old actress was finally spotted wearing her engagement ring. This supports the idea that the initial ring was too big for her.
Despite only sharing their news publicly just now, they did celebrate it with their close friends and family members. On March 14, they held an engagement party, where the likes of Marilyn Manson and Steve Tyler attended. They attended an hour after all their guests were there, except Heard's sister and Depp's son, who arrived with them. The party was exceptionally private, just like their relationship and lives.
The Pirates of the Caribbean actor can teach any man or woman looking to pop the question a thing or two. The most important thing is to make sure the ring is the right size! Depp is wearing a "chick's ring" to show just how bad the mistake can be.
Opinion by Alexandria Ingham
Source: