Recently, a good friend of The Guardian Liberty Voice, Hannah Dorn, agreed to do an interview with this reporter, talk about Godzilla and Breaking Bad, and — she and the company she works for as a writer on the marketing team, Shirts.com, will offer 3 very lucky readers chosen at random who are 18 or older one of three Heisenzilla T-shirts! What are "Heisenzilla" T-shirts, you ask? They are mash-ups of both Godzilla and Bryan Cranston, who stars in both Godzilla and in Breaking Bad, as Walter White, a chemistry teacher with cancer who breaks decidedly bad when he becomes a manufacturer of meth and a drug kingpin!
How can you win yourself a fantastic Heisenzilla T-shirt of your choice and size? First, please enjoy the following interview with Hannah "Heisenzilla" Dorn. Second, look at the 3 images of the Heisenzilla T-shirts offered in this contest, and decide which one you'd like to own if you are selected as one of the three contest winners. Third, in a comment below, state which of the T-shirts you'd prefer, what state you live in, and the size of the T-shirt you'd like if your name is chosen at random as a winner. This contest is open to residents of the U.S. who are 18 years old on up. This contest will run from now to Sunday, May 25, MIDNIGHT CT! Good luck!
Douglas Cobb: Hannah, how long have you had a business making humorous T-shirts, and what are some things that have given you inspiration to create them?
Hannah Dorn: Our family-owned company first debuted as T-Shirts.com in 2010 with a mission to offer one of the largest selections of classic, vintage and designer tees on the web.  Earlier this year the company rebranded to become Shirts.com in order to offer a greater variety of apparel products and unique, expressive designs.  Overall, we value creativity and quirkiness in our products with a focus on enhancing self-expression for our customers. We try not to take ourselves too seriously, as T-shirts are a form of creative and artistic expression and should be free to explore the comedy, beauty, irony and intricacies of daily life.
Douglas Cobb: Your line of T-shirts featuring a mash-up of Bryan Cranston's character, Walter White, in Breaking Bad, with the smash hit movie Godzilla — in which Cranston stars — was a brilliant idea. The T-shirts appeal to several different groups of people — fans of Cranston and Breaking Bad, Godzilla fans, and people who just like twisted and funny T-shirts. Are you, yourself, a fan of Bryan Cranston and Godzilla?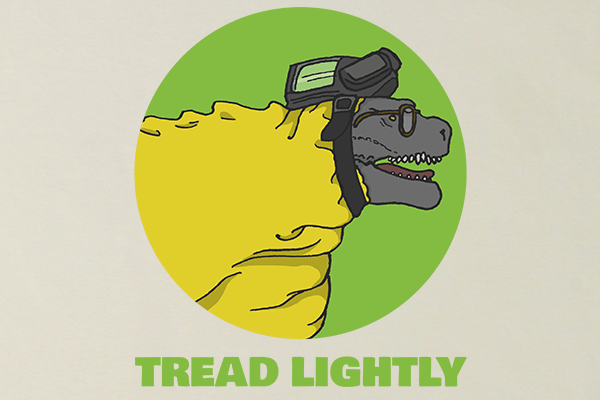 Hannah Dorn: I am a huge fan of both Bryan Cranston and Godzilla!  In fact, I watched all five seasons of Breaking Bad in two months.  I was also the weird girl in school who played with dinosaurs instead of dolls, so the concept of a giant reptilian creature stomping around city streets has always been appealing to me.  I think many comparisons can be made between Breaking Bad's Heisenberg and Godzilla. Both characters have a tendency to leave death and destruction in their wake. I also believe an argument can be made that, despite their destructive ways, both characters have surprisingly complex motivations and are misunderstood.
Douglas Cobb: What are some other T-shirt mash-ups that your company has for sale?
Hannah Dorn: We care a lot about meeting our audience where their passions lie, and as a result, we offer many mash-up designs that combine a variety of classic and pop culture themes. For example, one of our shirt designs brings together Dr. Seuss and Abbey Road (made famous by the Beatles' iconic album released in 1969). Our office is full of Star Wars enthusiasts, too, so you'll see quite a few Star Wars mash-up designs when browsing our site.
We also create mash-ups to provide entertaining content on our blog. Back in March 2014, we felt the need to add our own unique commentary to the viral report that North Korea's male college students were required to have Kim Jong Un's haircut. This report occurred just before the premiere of Game of Thrones' season 4, and we decided to create a photo mash-up of GOT characters with Kim Jong Un haircuts that ended up gaining a lot of traction on the web. When we noticed the inescapably hilarious similarities between Ron Burgundy and Ron Swanson, our Ron vs. Ron venn diagram also seemed like a natural mash-up for tickling our readers' funny bones. Both are extremely bizarre, but isn't that the point of a good mash-up?
Douglas Cobb: Do you screen print your T-shirts, or come up with an idea, and then have some other company screen print them for you?
Hannah Dorn:  We do a bit of both, but we have a lot of fun utilizing our Custom Shirt Designer to screen print our customer's own designs and print our in-house designers' creations.  We also feature a wide variety of exclusive shirts created by talented artists that you can only buy on Shirts.com.
Douglas Cobb: Thanks for agreeing to provide 3 of your Godzilla and Bryan Cranston T-shirts for a contest where three lucky randomly selected readers of The Guardian Liberty Voice can win one, Hannah! However, of course, not everyone can be selected as a winner. Where can people purchase one of your fantastic T-shirts, and what do they cost?
Hannah Dorn: It's my pleasure! We've featured our three "Heisenzilla" shirt designs on our blog and you purchase them at one of the links below. Each of these exclusive designs is only $18.99.
Douglas Cobb: Just one more question, Hannah — do you think you might do more T-shirts inspired by movies and the actors/actresses starring in them?
Hannah Dorn:  Absolutely! We always stay up to date on what is trending online and in pop culture so our customers can express themselves through our unique and fun designs and apparel.
Douglas Cobb: Thanks once again, Hannah, for taking the time out of your busy schedule to answer these questions, discussing your love of all things Godzilla and Breaking Bad-related, and, of course, for providing the T-shirts for this terrific contest!
Written by: Douglas Cobb