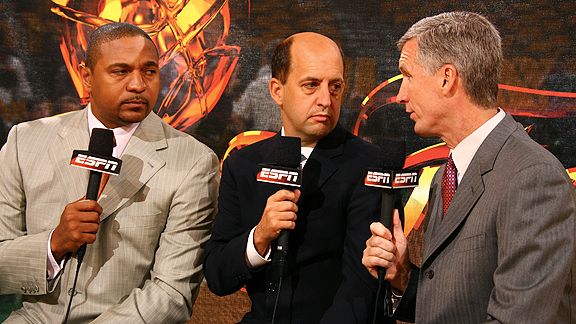 One of the more controversial coaching moves in recent memory occurred last week when the Golden State Warriors dispatched Mark Jackson. Immediately after Jackson's dismissal he became, arguably, the league's most coveted coach. However, instead of taking on another squad, he elected to go back to where his post-playing career began — the announcer's desk.
Much has been discussed about Jackson's controversial firing. As such, it has confused the league, for this was a man who was one of only two coaches who brought the Warriors to the playoffs in the last 20 years. He also was key to increasing the win total of the franchise over the last few years, catapulting them to a 51-31 record this season. He leaves with an overall 121-109 record in three seasons.
Most importantly though is that Jackson had a good relationship with his players. They genuinely liked him, knowing that it was through his teachings that they became a better ball club, particularly on the defensive end.
Unfortunately, the writing was on the wall. Reporters, players and obviously executives knew even before the loss to the Los Angeles Clippers was over that Jackson would be gone. It is well documented that Jackson did not get along with a handful of his assistants. Worse yet, he did not get along with the top executives in the franchise. It also did not help matters that Jackson was a pastor and a religious man, which may have rubbed staff the wrong way.
Regardless of what the reason may be, Mark Jackson's dismissal is still puzzling on a basketball level. For a relatively new coach, he proved to be well-suited for the job. He was a hard worker who delivered results. Regardless, it seemed inevitable that staff wanted to part ways with him. It is because of this that may have left Jackson with a sour taste in his mouth, and ultimately, may be why he did not want to pursue coaching for the upcoming season.
Instead, it appears Jackson needs to decompress, which is why he asked to rejoin the ESPN/ABC team of Jeff Van Gundy and Mike Breen. What is intriguing about the deal is that Jackson was the one who asked for a multi-year deal. Because of this, it seems evident that the former coach wants to take a break from coaching.
What is most intriguing is that he most likely was a top nomination for various coaching vacancies including the Los Angeles Lakers, New York Knicks and several others. All could have been great opportunities for him, but by going back into announcing, he will have a cushy, low stress job.
While it is a multiyear contract, this does not mean that Jackson has to work the entirety of the contract. Since the hiring, ESPN has stated that if a coaching opportunity presents itself, he will be allowed to talk to teams. In essence, this is a similar deal to what his Golden State replacement, Steve Kerr, was allowed to do at TNT.
Even so, it appears Jackson is not interested in coaching again for at least a year. In fact, it very well could be much longer for him. It is even possible that like his colleague Jeff Van Gundy, he may prefer the commentator job instead of the demanding stresses that a head coaching gig brings. Additionally, it will allow Jackson the freedom to contribute as pastor of his church in Los Angeles.
Mark Jackson, without a doubt, is one of the top up-and -coming coaches in the NBA. However, he now has learned the hard way that coaching can become quite the political game. For now, he is able to take a break and enjoy the NBA as an announcer.
Commentary by Simon Mounsey
Sources:
Yahoo Sports
Awful Announcing
Point Forward