Pancreatic cancer is one of the worst forms of the dreaded disease that invades so many different parts of the body. Mutated cells growing rapidly into tumors disrupt normal life as they wreak havoc amongst families, business men and women and even celebrities. Cancer has a free domain, often choosing its victims at random with no questions asked. Some cancers are readily detected or prevented, but pancreatic cancer seems to stand out in the crowd, providing little time for rescue.
The nearly silent inhibitor almost never shows up until it is much too late. Still damage has been done and only offers the victim a small cameo in defeating its aggressiveness and ultimate outcome. Too many have succumbed to the cancer and an estimated 46,000 in the US will fall to its clutches within the year. Pancreatic cancer is a wicked force many do not defeat.
Awareness is key and advanced medical tests and procedures are being perfected to detect and prevent this type of cancer. Cancer in general has received much publicity over the years with campaigns and fund raising. Through those effects, several types of cancers have seen positive results in slowing down diagnoses with limited occurrences.
Regular testing for breast, prostrate, colon and lung cancer have been in place for years. The rates for those types of cancers have dropped significantly, and also largely due to active campaigns and awareness programs. It has made a profound difference and lives are being saved. Routine screenings, research and treatments have made a huge impact on the general public and within the medical community.
Pancreatic cancer still rates high in the number of deaths it claims each year. Much of that is due to simply lack of testing for the type of cancer and the rate at which the disease progresses. Pancreatic cancer is a swift moving, often undetected killer that has claimed millions, including many famous faces we have witnessed along the way.
The pancreas is a vital and necessary organ in the digestive system. Located behind the stomach and attached the upper part of the small intestine, the pancreas is about six inches long. It is in charge of producing insulin to manage ingested sugar and starches. It also produces hormones and enzymes required for proper digestion.
Symptoms of malfunction and possible cancer usually include pain, loss of appetite, fatigue, depression and jaundice. Factors that may contribute to pancreatic cancer could include smoking, drinking and a high fat diet with a lack of exercise. Hereditary components are also being explored.
As many normal people have been affected by the disease, many noteworthy famous faces have passed from pancreatic cancer. The usual diagnosis of pancreatic cancer only gives most people a three to six months prognosis. Some have been luckier than that with determined spirits leading the way. Steve Jobs, Apple CEO, was diagnosed with pancreatic cancer in 2003, but lived until 2011, working and inventing until the day he died.
Patrick Swayze was another one that beat the odds, living almost two years with pancreatic cancer before passing away in 2009 at age 57. Dirty Dancing and Ghost were two of his legacies. His widow and wife of 34 years, Lisa Niemi is still involved with the cause through Pancreatic Cancer Action Network and the Patrick Swayze Cancer Research Fund based at Stanford University. She still  fights against the disease of pancreatic cancer and has written a book entitled Worth Fighting For: Love, Loss and Moving Forward.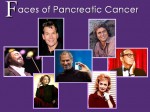 Pancreatic cancer attacks the very being of a person as they strive to fight against it. Michael Landon, best know for Bonanza and Little House on the Prairie tried his best to conquer the disease, despite major weight loss, as he remained upbeat on many shows. He fought the disease publicly with acceptance of the final outcome. Sadly, he only lived three months after being diagnosed with the dreaded disease. Other figures such as Jack Benny, Luciano Pavarotti and Bonnie Franklin also suffered great pain and passed away from Pancreatic cancer.
Miracles do happen, as many have gone through successful surgery, including Ruth Bader Ginsburg, Supreme Court Justice. She is still active today, after undergoing both colon and pancreatic cancer surgeries. Awareness is the key to finding cures, as funding and more research is always needed.
By: Roanne FitzGibbon
Sources:
Lisa Niemi Swayze