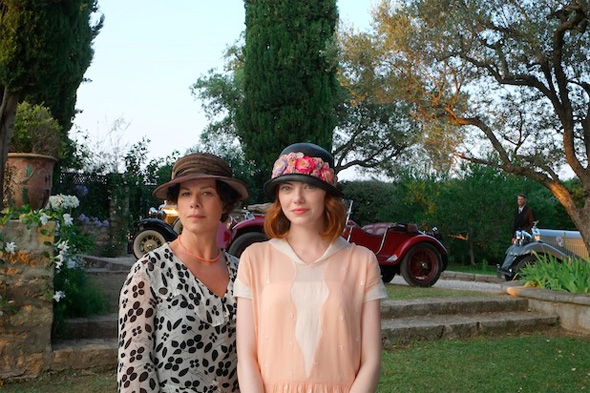 The latest Woody Allen Film, Magic In the Moonlight, is entering theaters on July 25th. Woody Allen sticks to the roots he is known for in this romantic comedy/period piece. The film stars Emma Stone, Colin Firth, and an all-star cast standard to all of Allen's current films.
Magic in the Moonlight is set in the 1920s in southern France. Colin Firth plays a magician who is sent to the home of a noble family to debunk a charming spiritualist, who is played by Emma stone. The young lady claims to have certain powers and is suspected of being a fraud. Due to the Englishman's trade in the illusionist business he is convinced that all spiritualism is rubbish, although it was a popular trend in the early 20th century. After many encounters with the girl he discovers her amazing abilities to predict the future and effect her surrounding. The magician begins to believe in magic, while falling for the beautiful and mysterious girl at the same time.
It has been a big year for the 25-year-old actress Emma Stone. Her and her boyfriend, Andrew Garfield, have a new super hero flick The Amazing Spider Man 2 in theaters. So far it has made over $175 million at the box office, making it the biggest release Stone has starred in yet. Her name has been on many tongues all over media recently and she has been topping the IMDB Starmeter for weeks. She certainly is Woody Allen's new It girl, and is all set to star in his next film in 2015. The film has yet to be named and not much info about it has been release, but so far Joaquin Phoenix has joined Stone on the cast list.
Midnight in Paris is where we first see Allen play around with the idea of Paris in the 1920s. His cinematographer from that film, Darius Khondji, returns to paint the picture for Magic in the Moonlight. Woody Allen's last film, Blue Jasmine, had a very successful run. The film landed its lead actress, Cate Blanchett, her second Oscar, and Sally Hawkins was nominated for best supporting actress as well.
Woody Allen is the kind of director that has no shame in repeating techniques and concepts in his film. He constantly makes romantic comedies with Yiddish themes; along with his distinguishable choice in soundtracks, making it very easy to spot a Woody Allen film when a moviegoer sees it. A great number of critics comment that several of his films have a lot to do with an older gentlemen courting a younger ladies, which is an element not entirely unique to his personal life.
All in all Woody Allen has personality, and that translates well into his films and writing. The seasoned comedian knows how to make the crowd laugh, and hearts swoon over his dialogue and character relationships. Woody Allen has not often touched concepts based around the supernatural, so when logic is out the door anything is possible. Magic in the Moonlight hits US theaters on July 25th, 2013.
By: Morgan Louchen
Sources:
IMDB
Vulture