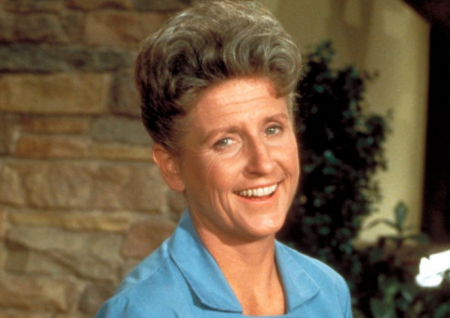 There can be very few people who grew up watching television in the 1970's who did not feel as though Ann B. Davis, aka Alice Nelson, was the unofficial ninth Brady family member. The news today that the 88 year-old Ms. Davis had a fall, from which she did not recover, is an almost unavoidable fact of life after reaching a certain amount of years. Regardless of this fact, it still feels horrid, like losing a member of their own family.
Davis began her career, according to IMDb, at the tender age of six where she worked in a puppet show for the grand sum of $2.00. This lady worked in several areas of little theatres and summer stock companies. With her mother's background in professional theatre, it seems only natural that Ann would chose this as her career. She spent an incredible amount of time working in television.
According to Susan Olsen, the actress who played Cindy Brady on the television show, Ann B. Davis was a lovely woman who was easy to get on with. She also relates, in her participation in the book about the cult Brady Variety show, Love to Love you Bradys, that Davis was a devout Christian who, after the regular series had finished, was not too overly thrilled to come back for the much maligned variety show. But come back she did.
In the same book, Susan reveals that Ann did not care for her co-star Rip Taylor, an over-the-top comedian who grated on the actress's nerves. However, being a true professional, she stuck out her obligation.
Perhaps the most memorable thing about Ann B. Davis was her smile, or painting with a broader brush stroke, her face. This actress exuded a large amount of goodwill, charm, likability, affability and kindness, in just a glance. Fans of The Brady Bunch would have been convinced that underneath that housekeeper facade, that Davis would have been just like her character in real life. Lovable, funny and loyal to a fault to the family she worked for.
Having to bid a sad farewell to the ninth Brady, Ann B. Davis is almost too heart wrenching for words. After the news was released about her unexpected passing, the Internet has been full of clips from the television show. One, the "porkchops and applesauce" segment can be seen below courtesy of YouTube and is but one bit of footage that can be watched.
Ann played Alice in all the original Brady shows as well as in the many "specials" on both TV and film. In the 1995 The Brady Bunch Movie she had a cameo as a trucker named Schultzy, which was her character's name in The Bob Cummings Show – 1955 through 1959.
In the parody movie, fans were delighted when the character Davis played "saved" Jan Brady and reminisced about the family she took care of before hitting the road herself.
The actress was a Episcopalian who took a year's hiatus from her show business career in 1976 and the practical woman said of the time she took out that she never heard a "voice from the clouds" telling her to leave the entertainment business.
That Ann B. Davis was the ninth Brady is beyond dispute. In the make believe world of 1970's American television this housekeeper was written to be a surrogate parent or a favorite auntie and a member of the family. It says much for the actress who played Alice Nelson for so long that the news of her passing after so many years is still sad and poignant. As Carol Brady says in 1995's The Brady Bunch Movie, "Oh Alice."
By Michael Smith
Sources: