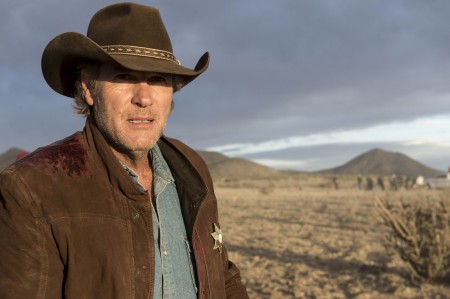 A&E's Longmire had its season three premiere with the episode The White Warrior on Monday and this cowboy detecting series continues the season two storyline and the sheriff still has problems dealing with the Reservation's law enforcement officials. Those new to the series may have to brush up on past events since this season follows on almost immediately from last year's finale.
Walt Longmire's deputy Branch Connally was shot and managed call the sheriff before passing out. Longmire rushes to Branch's side and after sewing up his wounds with fishing line and a hook, drops him off at a reservation medical clinic. While investigating the crime scene, Walt and his deputy, the Ferg, are kicked off by the aggressive tribal cop Mathias.
Connally recuperates and he swears that a dead man shot him, the one whose body had been incinerated at the reservation grave site that Branch had been investigating. Continuing the storyline from the first two seasons Longmire and his best friend, Henry Standing Bear have been searched and Henry arrested for the murder of the "meth-head" who killed Walt's wife.
Longmire scrambles to find out who shot Branch, appease the deputy's father, get help for Henry, and tries to put the pieces together to find out why she was murdered and who killed her killer.
Henry is in prison and Walt has to break the news that his friend's safe does not have the amount of money that Standing Bear expected. Longmire as a modern cowboy detective with a solid, almost, group of deputies has no reservations about breaking the rules while he searches for the bad guys, including the ones who killed his wife.
Aussie actor Robert Taylor stars as Walt Longmire and he does a very good job as a western iconic figure. His delivery is a mix of Harrison Ford (whom the man does resemble) and Gary Cooper. As one deputy, Vic Moretti (played by Katee Sackhoff) points out in the episode, Walt generally answers questions like monosyllabic Cooper.
It should be pointed out that the three most powerful performers in the show are Taylor, Lou Diamond Phillips and Katee Sackhoff. These three may lead the way in terms of making their characters seem real and believable, but the rest of the show's performers also lend a truthful air to proceedings.
Major Dad and Simon & Simon star Gerald McRaney played Deputy Connally's dad, Barlow and the actor played his character with just the right amount of surly belligerence and aggressive chin thrusting. All in all a very unpleasant character and it was a pleasure to see the fine actor still has got his chops in excellent order.
Longmire may feature a cowboy cop, detecting all the crime in his area of jurisprudence with little in the way of reservations, but it isn't all about gun battles, fisticuffs, and riding horses to crime scenes. It is about a clever and intelligent police officer who methodically tracks down all clues while trying to solve crime. Not quite Sherlock Holmes with spurs and definitely not Miss Marple but he does have traits from both. A knowledge about his constituents and an ability to solve a mystery logically. A great winning combination.
By Michael Smith
Sources: