Horse race season is a hotly anticipated tradition in San Diego County.  The Del Mar track is almost 80 years old and has kept its relevance in the community by emphasizing its classic style, providing free concerts on Fridays after the races and just generally claiming that it's "cool as ever." The races have garnered public concern over the treatment of the horses in recent years, however, and a full 14 deaths at the track since opening day on July 17 has not done much to assuage those concerns. Despite this deep-rooted tradition, this state of affairs has many wondering whether horse racing can – or should – continue at Del Mar.
The Del Mar Thoroughbred Club, or DMTC, opened in 1937 amid a flourish of excitement. A classic Spanish revival architecture style had been conjured up to house the races, and legendary crooner who wrote the famous "Down at Old Del Mar" song, Bing Crosby, was there to greet the first entrants to the races. Over its 80-year history, the DMTC has been couched in a sort of old Hollywood glamor. In their heyday, Del Mar and Los Angeles' Santa Anita horse racing facilities were seen as being the west coast's answer to Churchill Downs and Pimlico, which host the Kentucky Derby and Preakness, respectively. Despite its not hosting a famous event, Del Mar Thoroughbred Club was seen as the Cadillac of west coast horse racing, with sumptuous accommodations for high rollers and celebrities, parties and balls and world-class restaurants.
Del Mar certainly does not seem to be going anywhere in terms of its appeal as a venue. It has been the host of the Del Mar Fair or San Diego County Fair for many years and hosted the San Diego Sockers, the city's award-winning indoor soccer club, until their 2012 season. On the off-season DMTC also rents out its ample space for sporting events such as 5k races, as well as bridal, garden and even tattoo expos.
The club's marketing campaign has also remained strong over the years, and there seems to be no end to sponsors who line up to help promote the races.  For example, Harrah's Casino now presents the Summer Concert Series, where each Friday of racing season the track hosts major musical acts. This year alone, the likes of The Cult, Weezer, Counting Crows and Steve Aoki have graced the stage at Del Mar. In addition to the hottest modern acts as entertainment, Del Mar also tugs at the public's sense of sentimentality by reminding it of the rich history of the club. Opening day is a huge throwback-to-the-30s-style party, with fans dressing up in period clothing and a contest for the best crazy hat each year.
With so much going on at the track during horse race season, it is easy for fans to forget about the actual races, but they do still go on. This year's Del Mar Season will host 36 days of racing and, halfway in, the death toll for horses is close to the number of days the track has been operating thus far. There really does not seem to be one answer that explains this high number.
Horse racing in some form seems to have been around since humans have been domesticating the animals. Rome was famous for its chariot races, and the Mongols and Moors had a rich tradition of horse races in the middle ages. In this country, the first Jockey Club was established in 1750, a body which still governs horse racing and maintains the standards of breeding, race courses and the races themselves. By 1900, there were over 300 major racetracks across the country, and horse racing became more and more of an institution in the United States.  It is still the only sport in which gambling is universally allowed and legal.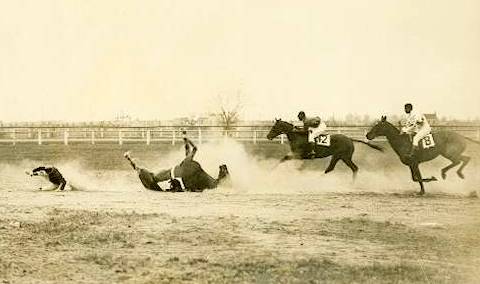 Horse racing has always been a brutal sport, as the high speeds, breakneck curves and adrenaline of both horse and jockey make for a highly dangerous and exciting mix. Like car racing, that potentially lethal cocktail and the excitement it brings attract fans just as much for the potential disasters as for the sport itself. Modern racing has the tough job of replicating those conditions while trying to keep horses safe, fans interested and money rolling in. Unfortunately, the safety of the horses does not always take top priority.
The first problem, as horse experts and the Jockey Club see it, is breeding. Just as dogs and livestock have been bred over the centuries for certain favorable characteristics, so to have horses. For the most part throughout history, breeding of horses has been specific to work or heartiness, with short-distance speed being an afterthought.  Since horse racing has become its own major economy, however, horse owners and racers have begun breeding for the traits which make up a good racing horse. Most have heard of champion horses being put out to stud after retirement, and that their prize-winning DNA can be worth more than the horse itself.
The Jockey Club has set out very specific guidelines about breeding within horse racing, but unfortunately many breeders and owners can find ways to navigate around these rules. Even if the rules are followed, the gene pool in horse racing is very narrow, and breeders and clubs have begun to see problems in horses bred from too closely related stock, such as heart problems, mental defects and brittle bones. Some of the naturally occurring traits in these horse breeds also make them difficult to handle as they can become easily agitated and injure jockeys and trainers, and do not do well with loud noises, travelling or in confined spaces.
The Jockey Club banned artificial insemination in 1978, and felt that if this practice was curtailed, inbreeding would be slowed down somewhat due to the fact that it is much easier to transport prize-winning semen than a prize-winning horse, and fewer breeders would be able to use the same material. The practice remained prevalent in racing, however, as it is difficult to police. In early 2012 the U.S. Department of Agriculture (USDA) agreed with the Jockey Club, making the rule subject to federal law rather than just a private ban. The USDA at this time issued a rule which was intended to mitigate an outbreak of contagious equine metritis (CEM), but many hope this will add weight and enforcement potential to the Jockey Club's rule.
The second thing contributing to horse deaths at the track appears to be the prevalence of performance-enhancing drugs. The California Horse Racing Board (CHRB) has very strict laws outlining what kinds of substances can be found in a horse at intervals before a race and in the case of a horse's sudden death. The CHRB states that between 3.5 and 19 percent of race horse deaths are seen as "sudden," or seemingly unrelated to a pre-existing injury or health condition. It should be said that this does not only refer to deaths caused by substances banned by the CHRB and the Jockey Club, and each case is assessed to determine cause of death.
Regarding performance enhancing drugs, the CHRB has outlined in no uncertain terms that no substances considered foreign to a horse's natural functioning should be used at any point before a race other than those listed as acceptable for the health of the horse. All the substances outline by the CHRB must be administered by a licensed veterinarian or vet technician. Specifically, the CHRB's rule 1843 categorically bans the use of what it calls "metabolitesor analogues," or performance-enhancing substances. The rule even goes so far as to state that prior to a race all anti-inflammatory drugs issued for the health of the horse must be non-steroidal. The Board cites harsh penalties for anyone in possession of stimulants or other performance-enhancing drugs, and outlines in another rule how random drug testing should occur.
Statistics on how many horse deaths have been specifically attributed to the use of banned substances are difficult to acquire, as post-mortem reports can take many months, and investigators are often reticent to conclusively state that sudden deaths in horses are caused by drugs in their systems. The CHRB does not currently have a report which cross-references results of random drug tests with horse deaths by trainer, although many activists claim horse deaths are caused by breeding or the use of performance-enhancing drugs. To date, only one of the 14 deaths at Del Mar has been reported to be a sudden cause. The two-year-old Mont Saint Michel was found dead in his stall before his race. The preliminary findings have cited a heart attack.
The final issue which may be attributing to so many horse deaths at Del Mar and worldwide is the turf. Del Mar has two tracks in its arena, a synthetic track (called a polytrack) and a natural turf track. The polytrack was refurbished in 2009 and originally was blamed for most of the euthanasia due to injury of horses during their races. In the 2012-2013 season, the CHRB reported that nine of Del Mar's 11 reported deaths were on the synthetic track.
Conversely, the turf track which was refurbished for the 2014 season was closed for over a week due to the number of injuries and resulting deaths which occurred on it. Track officials have stated that the track was calibrated extensively and passed all preliminary tests, and that they would re-test the track and begin more rigorous inspection of the horses for injury before racing. Since the track re-opened on Aug. 9, the rate of horse injury and death has slowed at Del Mar, but despite all of these precautions the threat of injury in racing continues.
The track, though cited most often as the culprit in the deaths of the race horses, may not be conclusively blamed either, however. Injuries may also be the result of health problems such as brittle bones or fragile tendons caused by breeding or even simply due to the young age of most racing horses.  Lack of data on injury causality coupled with inconclusive post-mortem reports on sudden horse deaths, the problem of turf can still only be a theory. The simplest guess is that the cause of horse deaths is a combination of all three of these risk factors. It seems, however, that much more research needs to be done and statistical data gathered and released to the public. In the meantime, while entities like the Jockey Club and CHRB try to legislate and police the prevailing issues, the deaths continue to add up.
Del Mar Thoroughbred Club is not the largest culprit for horse race injuries and deaths. Its sister club, Santa Anita, leads the state of California in track injuries and deaths and a club in Ohio is considered the most dangerous in the nation. It is estimated that 24 horses die on tracks per week during racing season in the United States. While research continues on the causality of race horse deaths, the races continue at Del Mar and elsewhere. In order to stop a long-standing institution like horse racing, better statistics and a more conclusive understanding of causes for problems need to be available to the public. As a clearer picture of the reasons for injuries and sudden deaths is presented by experts, veterinarians and activists, the potential for change in the horse racing world will be more realistic. In the meantime, tracks like Del Mar and the governing bodies can only be partially successful in ensuring the safety of the horses.
Opinion by Layla Klamt
Sources:
DMTC.com (Del Mar Makes Additional Adjustments)
DMTC.com (Turf Races Moved)
DMTC.com (Concerts)
PBS.org
NPR.org
California Horse Racing Board (43rd Annual Report)
California Horse Racing Board (Rule No. 1843)
California Horse Racing Board (Rule No. 1500.1)
California Horse Racing Board (Rule No. 1890)
California Horse Racing Board (Rule No. 1843.5)
California Horse Racing Board (Report on)
USDA.gov
Horseracing Wrongs
The Jockey Club