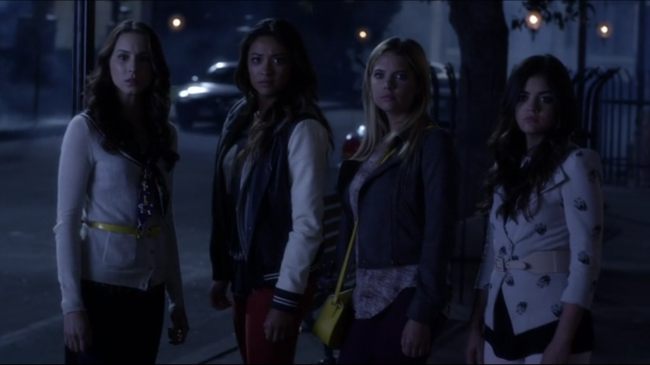 Pretty Little Liars ended the summer finale in a major way by killing off one of the main characters. While not one of the Liars, the character had become an integral part of the show to unravel who A really is.
Unlike with Alison's death to start of the series, it appears Mona will remain dead. While some fans will not really care—after all, she was supposed to be the one to hate for so long—others will be devastated. Mona had finally become a character to trust and one who was looking out for herself and some of her friends.
However, Janel Parrish, who plays the character, is not going anywhere. In a recent interview with TV Line she explained that she is still a series regular. Like the way Alison's storyline was always told in the first three seasons, Mona's will be told through a series of flashbacks. This gives fans one last thing to cling onto and they will get to see just how she became the manipulating and secretive character she was.
The bad news is that fans will not yet find out the real details of A. After all, the show was renewed for another two seasons after season five.
Pretty Little Liars had to do something major for the summer finale, and killing off a main character was the best way to do that. There is still some mystery around the death scene, but more will be shown through the series of flashbacks. Hopefully the flashbacks will show who did it.
At the moment, it looks like Alison was the murderer. However, fans of Pretty Little Liars will know that the evidence does not always support the ending. A is very good at planting evidence when he or she needs to throw people off the track. At the start of the season, Spencer was convinced her father murdered Mrs. DiLaurentis after finding the tablets used to lower her blood pressure.
Mona certainly believed that Alison was A, which is something that many fans have started to suspect. There have been clues the whole time that it could have been the former murder victim, including the fact that she was not allowed to leave town and then did an episode later. Even the Liars have started to suspect that their former leader of the group is A.
Parrish also shared that she gets to come back as a ghost. However, Pretty Little Liars does not seem to be going all supernatural, despite spin-off show Ravenswood having the supernatural element. Parrish explained that she will be the three ghosts from A Christmas Carol by Charles Dickens. It looks like Alison is getting a visit to encourage her to change her ways. Whether that will be in real life or as a dream is yet to be confirmed.
Things are definitely heating up in Rosewood and now fans will have to wait for a few months. As usual, the show will return at Halloween, with a one-hour special to show fans appreciating. This year there will also be a Christmas special seemingly based on A Christmas Carol. From there, the rest of the season will kick off in 2015. It is a long wait, especially considering the major summer finale with Pretty Little Liars killing off a main character in such a gruesome way.
Opinion by Alexandria Ingham
Sources: