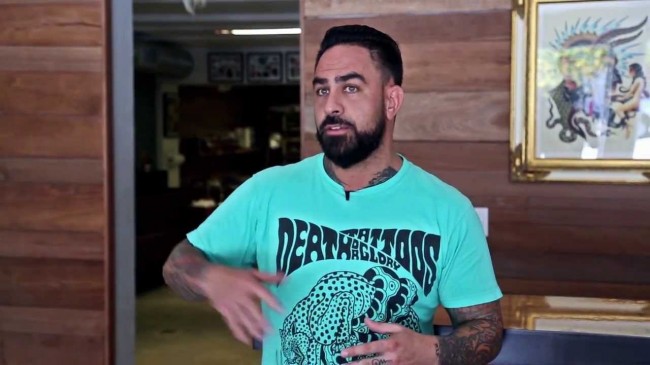 Chris Nunez, who stars as a judge on the hit Spike program Ink Master, is once again facing legal troubles. This time it is in the form of a DUI arrest, which took place this past Saturday.
The 41-year-old was originally pulled over for running a stop sign, upon which time authorities questioned him and became aware of his intoxication. He was taken to the Broward County jail, located in south Florida, where he was booked for the aforementioned charge. He was later released on bond, for an amount that has not yet been disclosed. Also not yet known to the public is whether the man was under the influence of drugs, alcohol, or both.
This is not the first time the Florida native has found himself in hot water with the law. Just six months ago, Nunez and fellow Ink Master judge Oliver Peck were sued by a former production assistant for the show, who filed sexual harassment documents against the two, asking for an undisclosed amount of damages. Nicoletta Robinson claimed that the two were constantly making vulgar comments towards her regarding their opinions of her sexual nature, as well as touching her without her permission on more than one occasion. She also alleges that Nunez was repeatedly asking her if she was menstruating and needed a hug, and also accused her of being pregnant simply because she let it be known that she was sick. Robinson claims that she attempted to file a complaint regarding the situation, but says the production team told her they were not sure how to handle the problem. The lawsuit ends with the woman's claims that Nunez and Peck released her from her employment following the knowledge that she was unhappy in her work environment, and that she was planning on taking legal action to rectify it. The case is still ongoing, and the show's network still refuses to give any statement surrounding the allegations.
Ink Master debuted on Spike in January of 2012, and centers around a group of tattoo artists competing both for the winning title, as well as a $100,000 grand prize. Every week the contestants must show off their skills by way of a variety of challenges and tests, and at the end of the day one or more contestants are eliminated from the proceedings. The show's third judge is rock singer Dave Navarro, guitarist for the popular 90s bands Red Hot Chili Peppers and Jane's Addiction. Navarro was in no way included in the aforementioned lawsuit regarding his fellow two judges. Ink Master is produced by Original Media, the company behind Miami Ink, a popular tattoo show which aired on TLC from 2005-2008 and also starred Nunez. Miami Ink led to several world city based spin-offs, included L.A. Ink (which starred popular celebrity tattoo artist Kat Von D), London Ink, NY Ink, and the less popular Madrid Ink.
It remains to be seen whether or not Chris Nunez's recent legal troubles will affect Ink Master's upcoming season, slated to air sometime this fall. Neither Spike nor the man's representatives have yet given any statement regarding the matter.
By Rebecca Grace
Sources:
TMZ – 1
Mail Online
Newsday
TMZ- 2