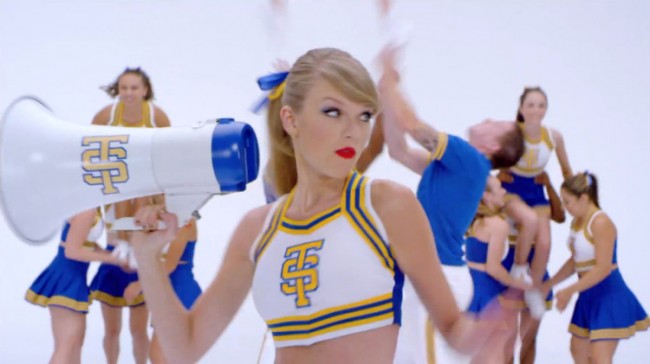 One of this year's hottest hits is Taylor Swift's newest song and video, Shake it Off.  The all American beauty is taking fans behind the scenes to share the making of the video and below are the outtakes from the cheerleader's portion. It is fun and enlightening to see how the inner workings of a video are done, and this one is a highly ambitious project. Fans probably do not realize the effort it takes to dance in so many different genre's, and this video covers far more than just one style of dance. The media criticized Swift for dancing during the MTV music awards, but the singer did just what she wrote, she shook it off, and fans are happy that she did. Most people are not trained in dance, and fans appreciate how real and down to earth Swift seems to be.
It is refreshing to see someone of Swift's stature show a side of her that most do not get to see. She states that this is a "feel good" song and video, and it is meant to show that it does not matter what people say. Not being afraid of being different is the most important message, and when people try to drag a person down, they just need to "shake it off."
In the video below, the viewer will see just what it takes to put together a production such as this, and what the pop star had to do to get ready for all the cardio effort that is required to perform all of the different dance styles. Swift is modest and fun, and not afraid to make mistakes, and she is quick to make sure her dancers are at ease and that they know the key is to have a good time performing. It certainly looks exhausting, and at the same time, like it really was a lot of fun.
For someone who has been in the business since the age of 14, Swift is a tribute to how being raised with values and morals, and with an enviable work ethic will take a person far down the road to success. The only drama is in her songs, and that is just where the fans want it. The songwriter moved to Nashville as a teen and quickly signed with an independent record label, which then led her to being the youngest songwriter at Sony. She rocketed up the charts in 2006 with her first album, and her hit single, Our Song was the first number one country song to be written and sung by someone so young. Since that time, she has become a force to reckon with in the world of country music, as well as a top-selling crossover pop artist. Swift still has a home in the Nashville area to this day, keeping the city that gave her that first break near and dear.
Swift's newest album, 1989 will be available in just over 40 days, and a pre-order and a hashtag, #1989SwiftStakes, could get a lucky fan the chance to meet the singing and fashion icon. For now fans are enjoying her newest hit, and now they can get the real behind the scenes experience with these outtakes. Taylor Swift has conquered the world of country and now she is blazing into the top 40 pop world, and fans could not be happier.

Opinion by Kristi Cereska
Sources:
Taylor Swift
Vulture