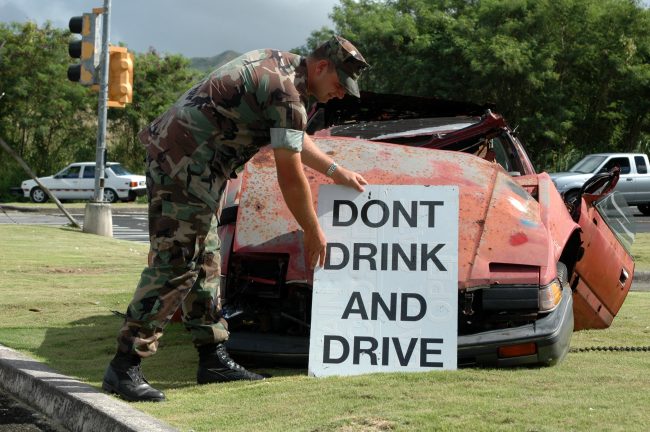 Through the years, the National Highway Traffic Safety Administration (NHTSA) has put out videos and commercials showing the dangers of drinking and driving, especially during the holiday season. This year, they have compiled a very graphic compilation using all of their public service announcements in one eye-opening video.  Most people are aware this is a problem, however many still do not believe that bad things will happen to them. According to the Traffic Safety Administration (TSA), it costs over 30 billion dollars each year to handle drunk or impaired driving accidents. What is even worse is that over 10,000 people are killed in those accidents.
A point to remember this holiday is that drunk driving affects not only the person driving, but everyone in the vehicle, as well as the innocent victims of those that choose to get behind the wheel impaired. Many people know someone who habitually gets behind the wheel after a night of partying, and one of the most giving things to do this holiday season is to get them the help that they may need. Many that choose to drive drunk are showing signs of a bigger problem whose cure will not be found at the bottom of a bottle.
The TSA shows that even the most innocent of actions can lead to a chain reaction, which can affect multiple families for the rest of their lives. In 2012, accidents involving alcohol happened every 51 minutes, and along with the possibility of death comes an even harsher penalty for those left behind. Jail time, prison time and a life in a wheelchair are just a few of the possible remnants of a drunk driving accident. Children lose their parents and vice versa, and there could be no greater wake-up call than walking away from an accident knowing that someone has died as a result of one person's actions. This holiday season, give the gift of life by not drinking and driving, and making sure that those who choose to drink have a way to get home that does not include getting behind the wheel.
Keeping loved ones safe is as close as the Internet, because no matter where one might live, there are organizations that will be the designated driver. Mothers Against Drunk Driving (MADD) is one of the most successful charities that not only fights to eliminate drunk driving, but also offers services to help victims of this senseless crime and chapters are located throughout the United States. Another service is Drunk Rescue, which will come and drive a person home in their own car. Two drivers are dispatched and one follows the other to the customer's home, so that there is no more hassle in finding a ride back to the bar the next day to retrieve a car. A simple and smart way to get home is to use a taxi. Many will not want to spend the money on this service, however the cost of a taxi is far less than the cost of a drunk driving offense, and taxis work both ways – to and from a person's destination.
This holiday season, give loved ones a gift certificate to a taxi company or a driving service, and keep them and everyone else on the road safe. In warm weather states, motorcycle riders fall victim to drunk drivers whose vision is already impaired, therefore chances are they will not see the bike in time to avoid it. Give bike riders these gift certificates also and do so every year, until the day comes that all people realize the danger of driving after having a few cocktails.
Opinion by Kristi Cereska
Sources:
National Highway Traffic Safety Administration
This Blew My Mind
MADD
Drunk Rescue