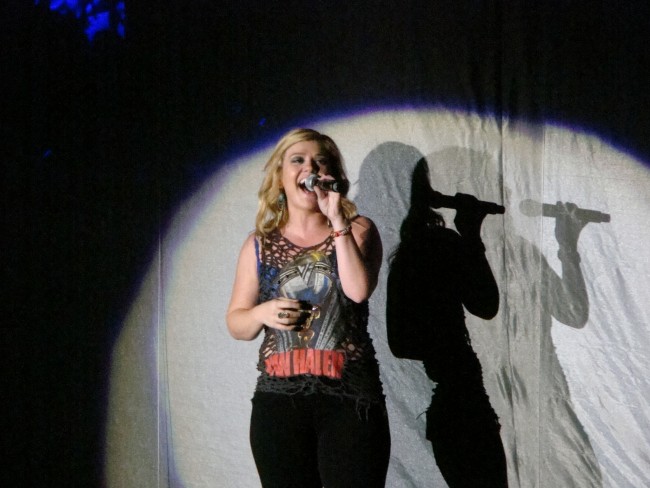 The good news for Kelly Clarkson is that her latest album, Piece by Piece, hit Number One on the Billboard 200 chart it's debut week. The somewhat bad news is that, despite the album hitting Number One, Piece by Piece sold fewer copies during it's first week than Clarkson's 2011 album, Stronger, which debuted at Number Two.
Piece by Piece has a lot of catchy songs on it, and it marks Kelly Clarkson's first non-Christmas album since 2011. Piece by Piece, Clarkson's third number one album, sold 97,000 copies during it's first week, compared to the 163,000 copies that Stronger managed to sell. Though Kelly Clarkson's newest album hit number one, the album in second place, the soundtrack for Fifty Shades of Grey, lagged behind by only 1,000 copies, with 96,000 copies sold.
Kelly Clarkson's two other Number One albums were her debut following her American Idol victory, Thankful, released in 2003, and All I Ever Wanted, from 2009. All I Ever Wanted sold the most copies of Clarkson's three number one albums, 255,000. Kelly Clarkson is now tied with another American Idol winner, Carrie Underwood, at three Number One albums each, more than any other American Idol alums. Piece by Piece was Kelly Clarkson's seventh studio album to date.
Taylor Swift's 1989 finished in the third spot on the Billboard 200 chart, with Drake's latest effort, If You're Reading This It's Too Late, lighting up the charts at Number Four, and X by Ed Sheeran coming in at Number Five. Overall, the sales of albums were sluggish this past week.
Only one other album debuted in the Top Ten chart this week. Debuting at Number Nine was the album, The Firewatcher's Daughter, from musical artist Brandi Carlile, with sales of with 43,000 copies. Dark Sky Paradise, Big Sean's album which debuted at Number One a week ago, dropped down to Number Six on this week's Billboard 200 chart.
Besides having taken over the Number One spot on the Billboard 200 chart, another good sign for Kelly Clarkson is that 85.2 percent of the overall sales of Piece by Piece were traditional album sales, as opposed to the streaming or downloading of individual songs and the entire album.
Kelly Clarkson had a big hit album last Christmas with her excellent collection of Christmas songs, Wrapped in Red. With the release of Piece by Piece, just three months into 2015, Clarkson has another hit on her hands, and her voice is as strong as it ever has been.
Though some reviewers have stated that they like Kelly Clarkson's Christmas album, Wrapped in Red, a bit more than Piece by Piece, her newest album has some standout songs on it like If I Had A Dream, Let Your Tears Fall, and Heartbeat Song. Other great songs on Kelly Clarkson's Number One album include the experimental War Paint, Tightrope, Someone, and Run Run Run, which she sings with John Legend.
With Kelly Clarkson's album, Piece by Piece, becoming her third album now to hit Number One on the Billboard 200, one question that is on the minds of American Idol fans is will she or Carrie Underwood be the first to take over the lead once again with the most Number One albums of any past American Idol victor. Both Kelly Clarkson and Carrie Underwood are extremely talented musical artists, so whichever one takes over the lead again, it is really their fans who will be the winners, by getting to hear some more great music.
Written By Douglas Cobb
Sources:
RollingStone.com
AceShowbiz
St. George Daily Spectrum
Photo By vagueonthehow – Flickr License