Taylor Swift falls merely $50 million short of making Forbes Magazine's 50 Richest Self-Made Women list, but her estimated net worth is still $200 million. Does she really deserve that much? How much is too much? The superstar has earned around $300 million during her career so far and has even delved into real estate. She owns homes in Nashville, Beverly Hills, Watch Hill, and New York City. The singer also owns a large chunk of her record label, Big Machine Records, which is worth approximately $350 million. Swift may not yet be one of the richest women in the world, but she is definitely making her way to the top of the list and on her way to even bigger stardom.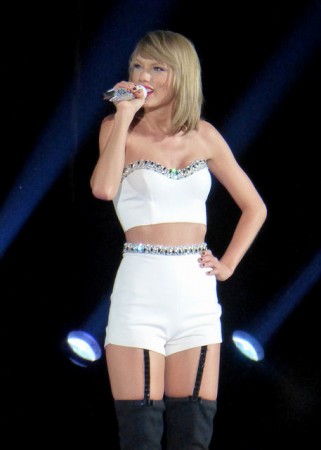 Swift may not have made the 50 Richest Self-Made Women list, but she did make Forbes Magazine's 100 Most Powerful Women list. She made number 64 on the list. Madonna was number 28 on the list while Beyonce scored the number 49 spot. Swift is the youngest performer to ever make the list, according to The International Business Times. Album sales alone help to raise the singer's income to well over $60 million a year. Album sales, merchandise, and touring together earn the singer over $80 million a year, thanks to her loyal fan base. She also has endorsement deals with powerful companies such as Diet Coke, Cover Girl, Keds, Sony, Elizabeth Arden, L.e.i Jeans, and American Greetings which bring in the big bucks. The star is also a global ambassador for New York City to add to her list of job titles.
Swift has also taken measures to ensure that the money keeps rolling in by doing things such as trademarking her lyrics. She has trademarked lines such as"Party like it's 1989," "This sick beat, "Cause we never go out of style" and others. The singer owns approximately $86 million in real estate including her four homes. She purchased a $2.5 million house for her parents in Nashville and a $2 million penthouse for herself. The apartment she purchased in New York set her back $19.9 million and her TriBeCa penthouse cost $15 million. She also spent $5 million on a place for her security team. Her Watch Hill, Rhode Island home cost $17.75 million and her Beverly Hills palace is worth $4 million. Swift has tons of money and certainly seems to be spending it as fast as she is making it. Her net worth is over $200 million but does she really deserve that much? Does anyone deserve that much?
Supposedly to protect her name and brand, she bought the porn site domains TaylorSwift.porn and TaylorSwift.adult. USA Today said that the singer claimed the purchase was to beat all of her haters to the punch and to prevent trouble before it begins. Her reasons for doing it are her own, but the point is that she had the money to do it and enough money to do whatever her heart desires. Swift definitely likes to travel in style and be in the lap of luxury. She bought a 12-seater plane in 2011 for $40 million so she can jet back and forth. She also has her own hangar for it at Nashville International Airport. The singer has six or seven-figure deals with companies like Target and many more, so obviously money is no object, but yet she rants and raves when she thinks that Apple will cheat her out of money for three months.
According to Perez Hilton, the singer was willing to shell out $80,000 for her ex Harry Styles' birthday and over $100,000 to obtain Beatles memorabilia for him. The article also said that the singer is big on spending huge amounts of cash on pampering her friends. It is true that Swift is extremely talented and works hard, but does anyone really deserve $200 million a year. There are people who struggle daily to make ends meet and those who are starving and a singer makes this absurd amount of money. Not only that, but she spends money on frivolous things it seems.
Does anyone need four homes or a $40 million plane? What has Swift done to deserve all of this? Sure, most people would love to have what she has, but it just seems unfair that celebrities have so much of the world's money while others can barely get by. Taylor Swift's net worth is over $200 million but does she deserve that much? There are many talented singers out there who have way more talent than Swift and do not make near the money she does. She is a driven person who is skilled at her craft, but should not have everything handed to her on a silver platter just because of her of status and influence. She is talented but is she really worth so much money?
By Heather Granruth
Sources:
OK! Magazine: Taylor Swift Net Worth — Find Out How Much Money The Singer Earns!
Forbes: Taylor Swift's Net Worth in 2015: $200 Million
IBT: Taylor Swift Net Worth Pegged At $200M; Star Is Youngest On Forbes '100 Most Powerful Women' List
Perez Hilton: Who is the Highest Earning Woman in Music?
Photo Courtesy of GabboT's Flickr Page- Creative Commons License
Photo Courtesy of GabboT's Flickr Page- Creative Commons License