Marvel's Agent of S.H.I.E.L.D. left viewers with a pretty serious cliffhanger for the next season, but luckily the series creators have unveiled bit and pieces of what fanboys and girls can expect this coming fall. Earlier in the summer during the San Diego Comic-Con, Marvel took the liberty to announce new characters to join the series for the upcoming season. The panel also leaked information about those that may be returning to the series, others who are becoming series regulars, and new developments. Though the show's plot this season is still shrouded in mystery and some characters fates still left unanswered, this is what viewers know so far about the hit show.
Season two may have been S.H.I.E.L.D.'s most exciting yet. With the introduction of "Inhumans" into the cinematic and television universe, the show reached a whole new level of intrigue and mystique. Series regular Skye (played by Chloe Bennet) discovered her lineage, mastered her power, and her real name-Daisy. According to Marvel, season three will continue her path as an agent of S.H.I.E.L.D. with a new mission to form a covert group of Inhumans to track and help others around the globe. Season three will introduce Daisy's Secret Warriors, a popular ban of Inhuman operatives from the comic series. The character will also undergo a new haircut and drop the "Skye" codename for her actual name Daisy. Considering that Inhuman character Lincoln (played by Luke Mitchell) has been promoted to series regular, it is clear that he will be helping Daisy in some form.
The climatic finale of season two also left many character's fates in the balance. Agent May (played by Ming-Na Wen) opened up about her past with the introduction of her ex-husband (played by Blair Underwood). After the many battles, May needed a well-deserved vacation and left with her ex. Since no news has been announced that actress Ming-Na Wen will not be returning to the series, her character's return from the long vacation may bring about a new and more dynamic Agent May.
Leader and fan-favorite Agent Coulson (played by Clark Gregg) will definitely be making his return this season. Coulson's main motivation at the beginning of season three will be rebuilding S.H.I.E.L.D. and getting used to the one-handed lifestyle. It is pretty clear that he will also be helping Daisy in search for more Inhumans.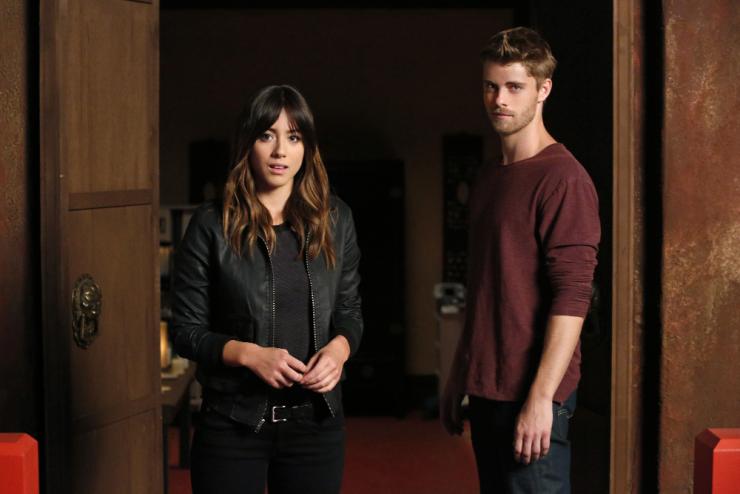 Other series regulars are returning to Marvel's Agents of S.H.I.E.L.D. this fall. Mockingbird character Bobbi (played by Adrianne Palicki) will return back to her status as an agent, but still reeling from her torture inflicted on her by Ward (played by Brett Dalton). A jilted Ward will be making his return as a villain in the upcoming season and heading a newly formed HYDRA.
As far as villains' update this season, it seems that Marvel's Agents of S.H.I.E.L.D. will have both Inhuman and human threats. Considering that at the end of season two, the Terrigen crystals that fell into the ocean and made its way into fish oil capsules on shelves. Former NFL player-turned-actor Matthew Willig will take on the role of Lash, a monstrous Inhuman with super strength and a god complex. In the comics, Lash was only loyal to himself and felt that he had the right to choose who deserved to become an Inhuman and who did not.
Other character updates include the addition of Constance Zimmer, Andrew Howard, and character Billy. Zimmer's character's name has yet to be divulged, but her character is stated to be a no-nonsense, mysterious leader of ATCU (Advanced Threat Containment Unit). Howard will play a character named Banks, who is Zimmer's partner. A new Inhuman named Billy will also be introduced this season.
Marvel still remains tight-lipped about the full details and updates of characters this upcoming season. Like most primetime shows, the general public will just have to wait in patience until the series unveils more when it premieres September 29 at 9 p.m. EST.
By Tyler Cole
Edited By Leigh Haugh
Sources:
TV.com–Agents of S.H.I.E.L.D.: Here's What We Know About Season 3, Including Who's Playing the Inhuman Lash
Marvel–New Details on 'Marvel's Agents of S.H.I.E.L.D.' Season 3
Den of Geek–Agents of SHIELD Season 3 News: Official Synopsis, New Villain