Taylor Swift and Conor Kennedy have thus far been a fairy tale story that makes for interesting reading. So in keeping up with our coverage of the two lovebirds, here is the latest news and the history of their saga as it continues.
Since Conor Kennedy has returned to school and Taylor Swift's busy schedule has kept her inundated with promotional appearances, media animals have been unable to feed their appetite with up-to-date news covering the status of their relationship. Nonetheless, it might be nice to know that their relationship is alive a well.
Recently, the "Boston Herald" reported that the two were spotted at Taylor's Tavern & Restaurant in Greenfield, a town not very far from Kennedy's school. Other stops during Swift's visit included shipping at an antiques store and a visit to a café.
While Swift fans are dying to know the next time to two will get together, the New York Daily News reports one place where the couple didn't show up. The occasion was the wedding of Michael Kennedy Jr., the grandson of Robert F. Kennedy, and Mary Campbell. Of the 155 guest in attendance, the Daily News reports that the singer and Conor were nowhere to be found.
Other than these event the last time the two were mentioned was when former U.S. Representative Patrick Kennedy told TMZ "the family is thrilled she's dating Robert F.
Kennedy Jr.'s son." Thus, the perception is that Taylor has already been accepted as a member of the Kennedy family.
"We love Taylor Swift … she's been a great friend and we're happy for Conor," Kennedy continued, "If she wants to be in the family, she's already a part of it." What did Patrick Kennedy mean? Was he saying that Swift was already part of the Kennedy family?
As a matter of fact, Taylor and Conor have been virtually inseparable for the past couple of months … with Taylor even accompanying Kennedy to visit his mother's grave after she passed away back in May. What many may find interesting is how things got to this point.
With Love, heartbreak and relationships key elements in most songs written by Taylor Swift, what exactly was it that attracted the singer-songwriter to the Kennedy clan? According to her: family.
Us Weekly reported that the singer first grew enamored while watching the 2011 miniseries The Kennedys, then began collecting memorabilia for her Nashville and Beverly Hills pads and boning up on the clan's history. In the summer of 2011, Taylor told "Rolling Stone," "I just read a 900-page book called The Kennedy Women." A few months later, Rory Kennedy reached out to Swift for concert tickets. Rory claims that her two young daughters are "huge" fans of Swift, and have visited with the pop idol back stage. Mrs. Kennedy reportedly extended an invitation for Swift to come to the Sundance premiere of "Ethel."
Well it turns out that Swift took Rory up on the invitation and showed up to the red carpet premiere of Kennedy's HBO documentary about Rory's mother, "Ethel." Reportedly, Rory was very impressed about how Taylor holds herself, and how interested she is in the Kennedy family.
"She really just loves my mother, which is so sweet," Kennedy said about Swift. "I'm a huge fan of hers.
Importantly, these quotes come out of the pages of newspapers and magazines from early January 2012. The most interesting report published back then was the suggestion that "Maybe Taylor can become an honorary Kennedy. Or maybe she will just start dating one!" Now remember that was written in January 2012.
Rory invited Swift to visit the family's compound for 4th of July weekend, where she met 18-year-old Conor Kennedy for the first time. "She's a great friend of all of ours," says Rory. "She's awesome, and we love her."
The infatuated couple first met on the 4th of July this year when Rory invited Swift to visit the family's compound.
The smitten couple has been sighted around Cape Cod and Nantucket throughout the summer, walking hand-in-hand and stealing a kisses.
Despite only recently meeting, Taylor accompanied Conor and his siblings to visit the grave of his mother Mary Richardson Kennedy, 52, who tragically hanged herself this past spring.
The pair were then accused by Conor's aunt, Victoria Gifford Kennedy, of crashing her daughter Kyle's wedding in Boston last month.
The mother of the bride said Conor was invited to her daughter's nuptials to Liam Kerr, but failed to RSVP.
Things have become so serious between them so fast that no one in Hyannis Port would be surprised if they eloped,' a source close to the Kennedy clan told the New York Post's Page Six.
The You Belong To Me singer does have a track-record of fast moving relationships.
Just weeks after her first date with Jake Gyllenhaal in 2010 she had Thanksgiving dinner with his family buy by New Year's Eve the two had split.
So when the singer flew her teenage beau out to join her by private jet in New York City last week, where she is busy promoting her new album some could perhaps claim, Taylor is moving too fast.
Nevertheless, Conor Kennedy is smitten with Taylor Swift, for not only she is talented, intelligent and beautiful, she also has a fabulous figure to boot.
With Conor looking on, the 22-year-old country music star recently displayed her long and slender legs in a pair of mustard micro-mini shorts for a retro-styled photo shoot in Manhattan.
Though the pair seems attached at the hip, Swift is facing a grueling work schedule, and Kennedy must return to his East Coast high school. Thus, the two are being forced to live their lives apart.
On Thursday, the country singer appeared on MTV's Video Music Awards in L.A., where she performed her latest single, "We Are Never Ever Getting Back Together," live for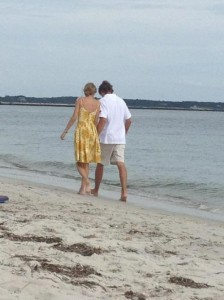 the first time. Meanwhile, her beau was having dinner at his boarding school, Deerfield Academy, according to a source.
There were countless reports in the media that Swift would again be sending her beau a private jet so that he could accompany her at the awards show.
Hollywoodlife.com even reported that they had the exclusive revealing that the couple planned to attend the MTV VMAs together! Here is what the website reported:
"It looks like Taylor Swift and Conor Kennedy will make their first public appearance together on September 6 at the Staples Center in Los Angeles! The love birds will also make time to hang out with Conor's cousin Patrick Schwarzenegger, who just started college at USC. A close source to the couple told HollywoodLife.com EXCLUSIVELY, "They will probably hang out with Patrick while they are out in LA. Since Patrick will be in town as he just started classes at USC, they all want to party together." And concerning the VMAs, our source tells us that Conor "Probably won't walk the red carpet, but he'll be there to support her performance at the show!" Taylor, 22, will be performing her newest hit single, "We Are Never Ever Getting Back Together" during the telecast. How sweet of Conor to be there in support of her latest career success! Young love is a great thing, isn't it?"
Little did the website know that juniors at Deerfield are scheduled to start the new school year on Thursday with a mandatory 9:30 a.m. arrival time, and night visiting hours end at 9:45 p.m. sharp. This made it impossible for Conor to be with Taylor in California, even if Taylor was willing to pay for a private plane.
Hence, for a little while the two will have to spend some time apart, especially since following her MTV performance, Swift performed at the Stand Up to Cancer benefit in L.A., again Kennedy was noticeably absent from her side. Her demeanor was solemn, but that was likely because of her performance's nature. She debuted a new song, "Ronan," named after a young boy who lost his life to cancer. Swift followed the boy's mother's blog and was touched by the story.
And the work will continue for the starlet. She'll get one day of rest before heading to the Canadian Country Music Awards, followed by a trip on Sept. 13 to Rio de Janeiro,
where she'll perform at Citibank Hall.
Once things quiet down for Swift, she already has requests from Kennedy's schoolmates to make an appearance on his campus.
"We have a Friday night concert thing – one is in late fall," a Kennedy peer tells PEOPLE. "People want her to come sing."
So the relationship is still alive and well, just suffering the normal interruptions that go with responsibility.
From beginning to end, this is where the relationship is, how they got here, and where the relationship is likely to go.
Please stay tuned: We will be keeping an eye on these lovebirds as we watch their story unfold.
By the way, "[Taylor] says it's a fantasy come true," the source adds. "[Taylor] is very smitten." Makes me recall the report that was published last January, which read: "Maybe Taylor can become an honorary Kennedy. Or maybe she will just start dating one!" What a harbinger.
I guess we can say that Patrick Kennedy has confirmed that Swift has symbolically completed phase one. Now let's continue to keep an eye on these lovebirds as perhaps she will truly become part of the Kennedy family when it's all said and done.
Perhaps it's worth mentioning that the fact that Swift and Conor Kennedy were missing, should come as no surprise. Last month, the duo reportedly ignored a request from the mother of the groom, Victoria Gifford Kennedy, that the country singer not attend her daughter's Camelot wedding, fearing Swift would show up the bride.
Contributor D. Chandler