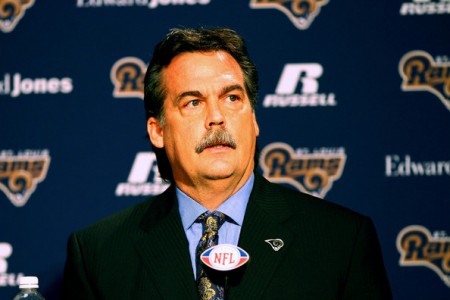 The St. Louis Rams have not been a contender for some time, not since the 'Greatest Show on Turf' packed up and left town following the 2001 season. However when coach Jeff Fisher and his Rams prepared for the 2013 season with a preseason against the Cleveland Browns they didn't expect to be ridiculed by Browns' commentator Bernie Kosar for their recent struggles.
Jeff Fisher responded to the inappropriate comments made by the former NFL quarterback turned commentator, and said that lost a lot of respect for Kosar as a result of his remarks. Kosar was out of line in regularly seizing the opportunity to insult the Rams' players, but was he just telling it like it is?
As a head coach Jeff Fisher had no choice but to fire back at Kosar for insulting his St. Louis Rams. If he didn't the team could lose belief in its abilities before the year even starts. He has to make this a point that his team rallies around throughout the year if he wants a chance at competing in a stacked NFC West division.
Throughout the game Kosar belittled the Rams receiving corps. After a pass intended for rookie Tavon Austin fell harmlessly to the turf, he said "I really think that he didn't overthrow him and that Austin has to make that catch in the NFL. I see why Sam Bradford has been struggling watching how bad these receivers have been for him."
After a dropped pass by Nick Johnson, Kosar remarked that, "this is actually not a bad throw. These St. Louis receivers are horrible. That's a drop there."
He even went as far as to say that he would "be embarrassed" to be watching the game if he knew the parents of the Rams receiving corps.
And then Kosar shifted his focus to quarterback Kellen Clemens. Among other things, Bernie Kosar lashed out at the backup quarterback who has been in the NFL for 8 years after coming out of the University of Oregon after being informed that Clemens autographed a football for Pope Benedict XVI. "Bless me father for I have sinned," Kosar joked. "I have to watch him the whole fourth quarter."
These comments clearly crossed the line and were inappropriate, so Rams coach Jeff Fisher had to fire back at Kosar. It wouldn't be a surprise to see the league or Browns organization take action against Kosar as a result of his comments either. However it is the job of a commentator to provide insight and call it like he sees it, the Rams offense has struggled to find a rhythm throughout the Sam Bradford era. Kosar perhaps is simply tired of seeing an offense with a talented quarterback so consistently remain stuck in neutral.
Jeff Fisher was completely right when he fired back, saying that:
"First off, let me say this: the Cleveland Browns' organization is a first class organization from top to bottom and it has been that for years and years and years. I guess I'm a little disappointed. I feel bad for them that they had someone doing their broadcast feel the need to speak that way about players, specifically on our team and coaches for that matter.
"I'm just surprised that Bernie has such a lack of respect for players and this game. To be honest with you, I lost a lot of respect for him. It's highly unlikely he knew anything about our football team, but felt the need to make those comments. I don't think they were justified."
Bernie Kosar took his criticism of the Rams way too far, however the St. Louis offense has struggled for far too long and this was the first major instance of someone in the sporting world telling it like it is. Jon Gruden would wait until a Rams' receiver who dropped three passes in a row to catch a five yard hitch before praising him like he was the greatest player in the league.
Commentating in the NFL has become a praise only deal, these athletes are professionals and should be able to handle a little criticism. Although Kosar's comments shouldn't have to be tolerated due to their attacking nature, commentating a professional football game should not mean you have to be afraid to critique someone's play.
Jeff Fisher is a veteran coach and will be able to spin this into a positive for his team. The Rams will rally around this moment and elevate their level of play as a result. That likely would not have happened had Kosar not spoken his mind, although out of line, it would not be surprising to see the Rams come out next week against Green Bay with something to prove.
Tavon Austin is a gamebreaker type talent, however the Rams did little else in terms of bringing in explosive talent. Sam Bradford lost his running back in Stephen Jackson, as well as his number one target in Danny Amendola. Look for him to target Austin early and often this season, giving the rookie every possible attempt to silence Bernie Kosar and the rest of the critics of this Rams team.
Follow me on Twitter @CharlieGille
Senior Sports Editor
The Guardian Express
Op/ed