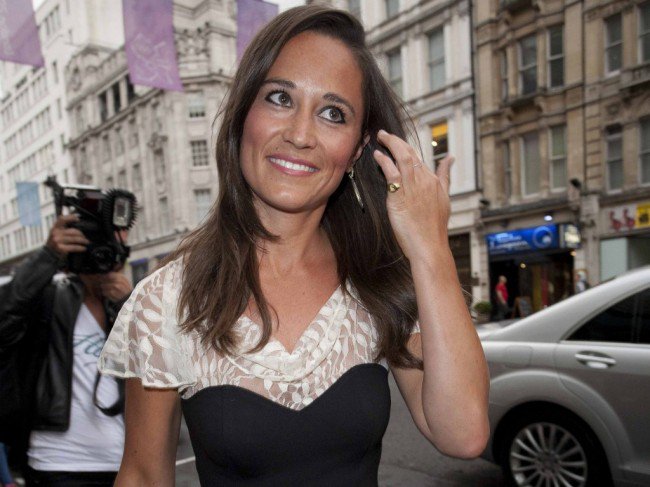 If recent rumors are correct, Pippa Middleton is anticipated to marry her stockbroker boyfriend, who she has been dating for just six months. Fast work, indeed. But the most astonishing news is that she has been secretly engaged to her boyfriend for the last three months.
News of Pippa's engagement is speculated to be officially announced following her 30th birthday celebrations, this Friday. However, how the love-struck couple managed to keep their engagement a secret for so long remains a mystery.
The Daily Mail alleges the couple became engaged, prior to the start of the Wimbledon tennis season, back in June. The reason for delaying the news, however, is reported to center around Kate Middleton's birth. It seems that Pippa did not want to detract from her sister's birth, and elected to remain close-lipped on the subject.
As reported by the Daily Mail, this has been confirmed by an anonymous source close to Pippa, who maintains that the announcement was delayed until after Pippa's 30th birthday to ensure the "shine" wasn't taken off the Duchess of Cambridge and her new baby.
During the Wimbledon finale, where Andy Murray reigned supreme over opponent Novak Djokovic, the pair were reported to have been remarkably close. This was perhaps a sign that their secret engagement had brought the couple closer together, a trend which seemed to continue over the ensuing three month period; Pippa Middleton was seen on numerous occasions, thereafter, looking very cozy with her new fiancé.
The lucky man in question is a stockbroker, called Nico Jackson, aged 35, who is currently six years older than Pippa Middleton.
Pippa is now said to be involved in selecting a venue for the wedding reception and designing a ring, at her parents' Bucklebury home. Further rumors seem to suggest the affair will be a traditional wedding, likely at a local church.
Pippa shot to notoriety when she became her sister's bridesmaid, stunning millions across the globe in her elegant Alexander McQueen dress. With the latest news of Pippa's engagement, many are predicting Kate Middleton to extend the same courtesy, becoming Pippa's bridesmaid.
Pippa and Nico's parents are reported to be thrilled by the news. Both families are said to get on fabulously, with Pippa's mother even offering Nico's parents advice on how to run their family business, selling ski and sports equipment. Pippa's mother, Carole, already has extensive knowledge on how to run businesses, and currently operates a firm called Party Pieces.
Originally, Pippa worked for the family business and then spread her wings to develop a career as a budding writing.
Pippa and Nico hit it off, last year, when they met in a night club in London. The pair are said to have numerous common interests, including skiing and travel. They even took their hobby to the extreme, competing during the Engadin skiing marathon, which stretched out over a distance of 40 miles.
Nico does not hail from wealthy roots and his parents worked tirelessly to create and sustain their own business. Nico ultimately went on to complete a business degree at Kingston University, Surrey, before moving on to become employed by M&C Saatchi, an advertising agency. Currently, however, the soon-to-be-wed stockbroker works for Deutsche Bank.
In the past, Pippa had gravitated towards some of the more affluent members of society, including an investment banker, a financier, and the brother of a famous reality television personality, who starred in Made In Chelsea.
So far, Pippa Middleton's close family members are not engaging directly with the media, as they clearly wish to respect the privacy of their daughter. Pippa, however, is thought to remain on holiday with her boyfriend, in the Caribbean.
How Pippa was able to cleverly elude the media, and keep her engagement a secret for the last three months, is up for speculation. Nonetheless, we wish them the best of luck in their endeavors.
By: James Fenner
The Mirror Link