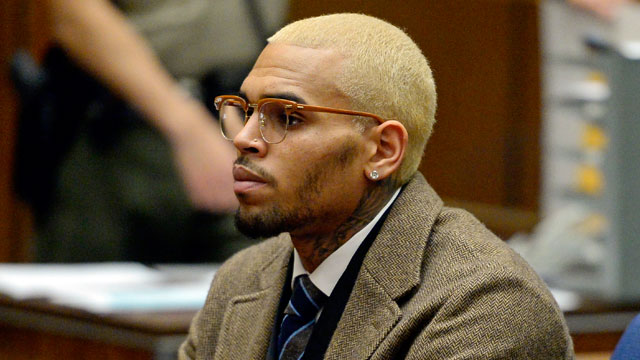 On Monday, a judge revoked the probation for newly-blonde and buzz-cut R&B singer Chris Brown for his October arrest in Washington, D.C., and alleged assault, but Brown is not headed to jail — at least, not yet. He was he taken into custody — Brown will be allowed to continue his rehab treatment and finish his court-ordered weekly 24 hours of community service.
The singer has completed 60 of 1000 hours so far. Chris Brown, 24, must also refrain from smoking marijuana and continue taking his prescription medication as a part of the deal. The community service required of Brown includes cleaning up graffiti and cleaning up trash alongside roadways.
The reason that L.A. Superior Court Judge James Brandlin gave for not having Brown taken into custody is that "he is doing well in the program."
Grammy winner Chris Brown, who resides in California, is not permitted to leave the state except to journey to the nation's capitol on January 8 for a hearing in the October assault case. Mark Geragos, Brown's attorney, said that his client is required to appear in person at the hearing.
Brown was accused by a man of assaulting him in Washington, D.C., outside the W Hotel. Initially, both Chris Brown and his bodyguard were charged with a felony, but those charges were reduced down to a misdemeanor charge on Brown.
In August 2009, after he plead guilty to his pre-Grammy assault of Rihanna, Chris Brown received five years of probation. Brown was sentenced to three months at a rehab facility. He is about a month through it, with a little over two months to go.
Soon after Brown's arrest in D.C., he checked himself into a rehab facility there, but on an outpatient basis. On November 20, due to Brown's Frequent problems with the police, such as throwing a rock through his mother's car window, a judge decided that the R&B singer needed more than just outpatient treatment.
Chris Brown's girlfriend, Karrueche Tran, was in court today with Brown and his lawyer, Geragos, to offer her support.
On February 10, at another hearing in Washington, D.C., Judge Brandlin will review a supplemental report on Chris Brown's progress. The judge will decide then if Chris Brown will be allowed to continue out his hours of community service and time in rehab, or if he should complete his sentence in prison.
Today's report suggests that Chris Brown is making improvements and has made a "positive behavior change." He is also undergoing therapy at the facility, "including anger management."
Another bit of good news in the report today was that Chris Brown "is taking psychotropic medication"and that the random drug tesing he's been subjected to have all come up negative for opiates, amphetamines, Marijuana, MDMA, cocaine, benzodiazepeneshave, and PCP.
Chris Brown reportedly dismissed the idea of a probation officer to be transferred to a "sober living facility" after the initial three months of rehab are up. He said that his main problems stem from anger management issues rather than addiction, and that additional time spent in a residential facility would be a financial burden to him.
It's estimated for Chris Brown to complete the 1,000 hours of community service which is a part of his punishment for beating up Rihanna, that he will need to work eight hours a day three days a week up until August.
Despite his recent alleged assault of a man in Washington, D.C., Chris Brown seems to be making a concerted attempt to get his drug and anger management problems under control. August is still several months off, but if Brown can make it to then without getting into further trouble with the law, he might be able to get his singing career back on track.
Written by: Douglas Cobb
E!Online.com
MedicineHatNews.com
WTVR.com