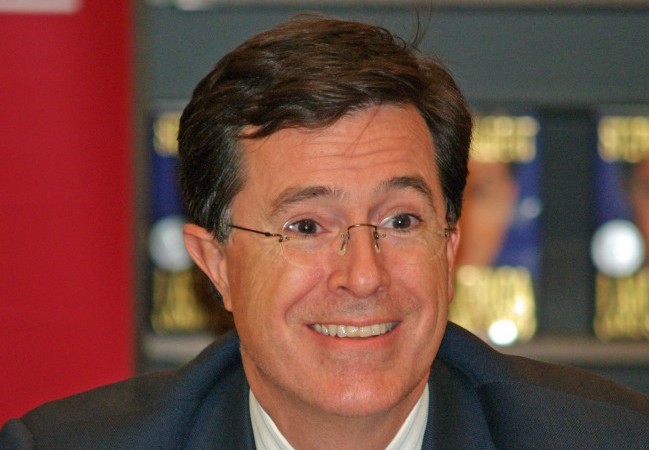 Following a massive brawl this weekend where online activist group #CancelColbert went off on Stephen Colbert, the TV show host made a diplomatically appropriate decision to cancel himself. This might come as a shock to some, but having been the source of outrage with a joke that backfired, the star seemed to have little hope of return.
A source close to Colbert reportedly said this was the perfect time.
He's been looking for an excuse to leave for a long time. He's super self-conscious and feels like his floppy ear looks funny on-screen. Sometimes he'll spend days on the couch crying and eating ice cream after watching an episode of his own show. It is only natural for him to leave this chapter behind and pursue something more important, like charity work.
When asked whether that charity work would involve the proposed organization that sparked the failed joke, the source said "no, that was a cover." When confronted about the decision to cancel himself, the television personality said:
It's the right thing to do when you've made a big mistake and gotten everyone to hate you. You quit. All politicians do it. The minute they mess up they apologize and quit, leaving the position open for a more competent candidate.
When asked why an apology has not yet been formally presented, Colbert explained:
As most people know, an apology is a highly complicated action. You don't just run out and say sorry. There are all these highly delicate things like how you have to really mean it and phrase it the right way and a whole bunch of other really scary details. Why do you think it often takes people years to apologize? If you're a master at apologizing, chances are you're not that good a person.
When asked to go into detail about canceling himself, the infamous Stephen Colbert almost broke into tears:
It was tough, really tough. I had to see a therapist before I could go through with it. I don't know how anyone can spend their day canceling things, pushing big red buttons, or saying "I do," or make a choice between pancakes and toast for breakfast. How Kim Kardashian can pick out what to wear each day is beyond me. It's so much easier to just join the protests than to make big decisions. After some consideration I went undercover and camped outside my house with a #CancelColbert sign for days. I even asked other protesters what they thought of the asshole inside, raved at how he didn't deserve to be on TV and how he'd betrayed everything he stood for. Eventually I got so furious at myself that I went back in there, changed and walked back out as me to cancel myself.
John Stewart and The Best F#@king News Team commented on the decision, stating that it was about time to cancel that show. However, the rumors that The Daily Show had made several contributions to the #CancelColbert campaign in order to eliminate the competition were not confirmed in the statement. However, it is official that the alleged show has now aired its last episode as Stephen Colbert cancels himself.
Satire by Halldor Fannar Sigurgeirsson
@DoriTheViking
Source:
CNN