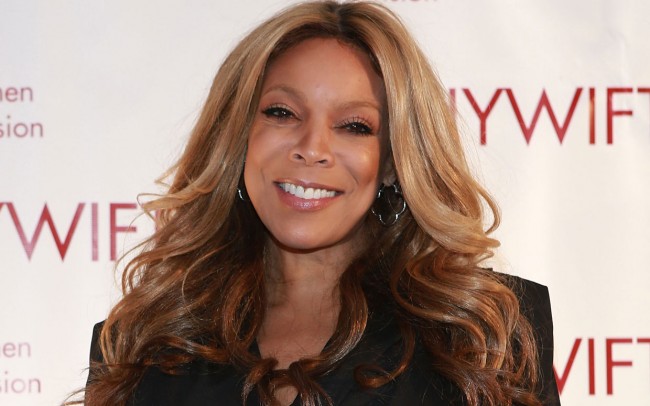 Wendy Williams has become reportedly one of the most respected and popular talk show that many television viewers turn to or set their DVR for the latest in entertainment news. The daytime talk show queen of gossip and "best friend" to all of her viewers is known for her quick wit and Jersey-girl realness, but Williams might have met her match and got real with the wrong celebrity. Former reality star of the Basketball Wives Evelyn Lozada, many would say, is not a woman to be messed with on or off camera. Williams came for Lozada on her show and Lozada answered with a below the belt blow to the 5'10" famed talk show host sending Twitter into a frenzy.
Williams walked out Wednesday to greet her audience, to whom she refers to as her co-hosts, with a welcome that lead many to wonder what might have happened prior to her walking from behind the curtains. As her co-hosts applauded with a standing ovation at the sight of their favorite daytime talk show, "I need your encouragement," Williams said softly at the start of Wednesday's show. Many fans saw a little fire was missing from Williams Wednesday in comparison to Tuesday's show when she reported her famous Hot Topics on the latest celebrity gossip that millions of viewers tune in for. Tuesday Hot Topics reported Basketball Wives Evelyn Lozada and Carl Crawford of the Los Angeles Dodgers giving birth to their son Saturday morning. The applause of the happy news for the newlyweds turned to laughter from the audience when Williams referred to the baby as a "cash register" repeatedly. Lozada, possibly still resting and healing from just giving birth a few days prior, took time to get on her Twitter account to respond or rather…react.
The 1.1 million Twitter followers of Lozada got a strong whiff of the reality star's fury with Williams. Lozada fans are no strangers to her fiery temper. She is remembered by many Basketball Wives fans for reacting to a verbal attack from a cast mate that lead her to jump on top of a table to run fearlessly across the table in a public restaurant physically attacking the cast mate. When former husband NFL football player Chad Ochocinco Johnson was reportedly caught with opened condom wrappers in the newlywed's vehicle, allegedly Lozada went into a fiery rage that resulted in Johnson striking the beautiful star leaving her with stitches in her forehead and Johnson being arrested. Lozada, after going through a painful divorce with Johnson, reportedly made a promise to herself that she would no longer use violence to respond, but instead, use her words. And that she did.
Lozada used social media to confront the host for referring to her newborn son as a "cash register", firing off on Twitter exposing alleged infidelity in Williams' marriage to Kevin Hunter. Williams took a jab below the belt insinuating Lozada was a gold digger that hunts athletes like a sport. Lozada's new husband (Crawford) is reported to be worth over $142 million. After Williams made jokes about the couple's son being a "cash register" for Lozada, Lozada went into detail on Twitter about Williams' husband coming into her Miami shoe store Dulce to purchase a pair of boots for his mistress. The tweet went further to describe the brand of the infamous boots. Lozada reminded the talk show host that she had sent her flowers to wish her luck for her first Broadway debut last year. Williams possibly had forgotten the nice gesture from Lozada in 2013 or has reasons unknown to the public to attack the reality star.
Lozada ended the tweet with a hashtag instructing Williams to put her alleged cheating husband in her show's Hot Topics. The hurtful exchange is not a proud moment for the two accomplished celebrity business women. Both loved and respected by millions, many hope the verbal boxing match will cease. Lozada, yet again, let the world know she is not one to be messed with. Most women protect their families like a fierce lion. To come for a lion's family could result in the predator becoming the unfortunate prey. Though no one but Mr. and Mrs. Kevin Hunter knows the truth to the adultery allegations, Williams will possibly think twice before speaking on Lozada's family again.
Williams paints a picture perfect New Jersey family life of the Hunters and often encourages many happily single women to view getting married as the Holy Grail that every woman over the age of 35 should work to achieve. During Wednesday's show, however, the talk show host was singing a different tune stating marriage is not for everyone. Though Williams and Lozada are infamous for hitting below the belt, both have apologized in the past when they have been wrong. However, Williams' millions of fans count on their favorite talk show host to do what she does best; keeping it real, asking the straight forward questions, and stating brutal honesty where no one is exempt, including herself. Williams has and will always demonstrate she did not reach this level of success by keeping her mouth shut. Whether she will one day decide to use a filter, viewers will have to stay tuned in to see. But chances are, Wendy Williams will continue to be Wendy Williams. And her ratings prove that it is not a bad thing.
Opinion by Meleika Gardner
@IAMMeleika
Source
Wendy Williams
Twitter
Hollywood Reporter