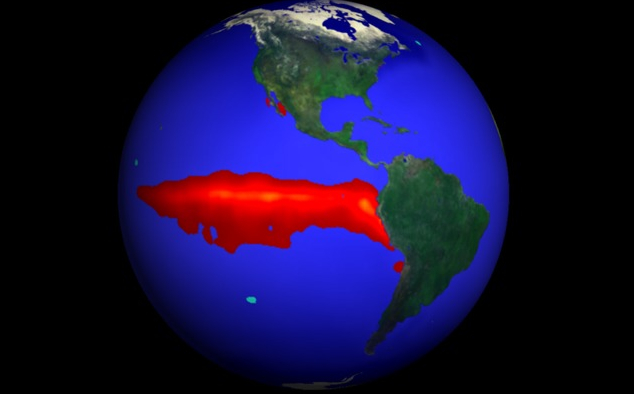 After the Southeastern United States has endured the Polar Vortex and now a punishing tornado season, more may be in store for the entire nation. Forecasters are predicting an intense El Nino/Southern Oscillation (ENSO) for 2014. Already, farmers in New Zealand are warned to prepare for colder temperatures and higher-than-average rainfall and Australia is expecting drought conditions. This year's El Nino, if it happens, is thought to have a tremendous global impact.
An El Nino weather pattern stems from warmer than usual water in the South Pacific. This impacts air temperatures and results in warmer temperatures in the Western United States. California is likely to experience torrential rain. The Southeast and Florida are likely to have higher than average rainfall and the Ohio Valley and the Pacific Northwest are due to experience hotter and drier conditions.
Signs of an ENSO weather system are brewing in the South Pacific. Waters were already warm, but a Kelvin wave which rose last January increased water temperatures, resulting in the highest March temperatures since 1979. The massive energy from a Kelvin wave can cause great shifts in oceanic temperature.
Due to the Kelvin wave, the warm water ″blob″ is larger than usual this year and scientists state that there is a correlation between the size of the warm water mass and the overall impact of El Nino. NASA is predicting water temperature increased through the end of the year, continually exacerbating the impact of ENSO through the Christmas season. However, technology has only allowed for two decades of record-keeping, so scientists warn that there is no firm basis to believe that this year's ENSO event will be any larger or smaller than any other.
The good news is that, in the event of an El Nino, Atlantic storms are likely to be weaker and fewer in number, but Pacific storm activity is expected to increase. This stormy sea might then bring monsoon rains to a parched California, resulting in mudslides and flood conditions. After five years of drought, full reservoirs are certainly welcome in the Golden State, but mudslides and floods are not. The reservoirs may fill this summer, but that does not mean that the Great Central Valley will see an abundance of food.
Similarly, the Midwest will appreciate higher temperatures, but the heat of 1997 was brutal for the region. Further, the dry weather that comes with El Nino might dry up whatever moisture gains were brought by the excessive snow of a Polar Vortex winter. Countering one extreme with another is not what Midwesterners were looking for.
New Zealand's National Institute of Water and Atmosphere is predicting a 50 percent chance of an El Nino winter, while weather watchers elsewhere are posting numbers as high as 80 percent. Western New Zealand, which are normally wet during winter are likely to experience higher than normal rainfall, instigating widespread erosion and washouts. Plus, livestock to not do well in heavy rain conditions. It turns out that everyone, humans and animals alike, is down when the weather turns grey.
Eastern New Zealand, on the other hand, is likely to see severe drought and food shortages. When New Zealand last had a severe El Nino, in 1997 and 1998, farmers experienced huge losses and the country lost hundreds of millions of dollars. Weather events such as an El Nino disrupt whole economies, and that has an impact on global markets.
The National Weather Service is not jumping to any conclusions. In a discussion of El Niño/Southern Oscillation (ENSO), the agency is remaining ENSO-neutral. The NWS indicates that chances for El Nino conditions increase as the year progresses and will exceed 50 percent by summer. Meanwhile, Australia's Bureau of Meteorology are posting a 70 percent chance of El Nino. While scientists fuss and fret over the data from the model, there is a concession out there that scientific models failed to predict the 1997-98 ENSO, which was dramatic. The global impact of this year's El Nino is yet to be seen, but farmers and economies worldwide would be wise to heed the warning signs science is presenting.
By Hobie Anthony
Sources:
NASA
National Weather Service
Skeptical Science
New Zealand Herald
Accuweather
University of Hawai'i at Manoa