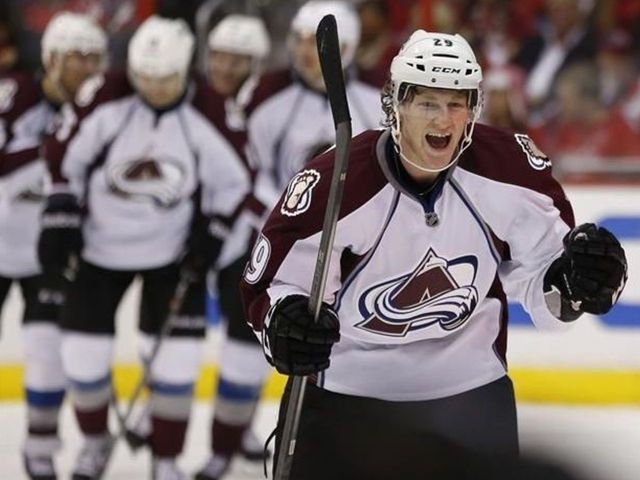 He has been called 'Big Mac'. He has been called 'Little Mac'. He has been called 'Kid Dynamite', and yes, he has even been called 'Little Great One'. But the nickname Colorado Avalanche rookie sensation, Nathan Mackinnon's fellow NHL teammates have settled on, a nickname that is certain to stick for years to come, is 'Razor'.
How can anyone be sure it will stick at such an early stage in his career? Consider this: When Paul Stastny moved into position for the game-winning goal in last Thursday's incredible come from behind win in game one of their series with the Minnesota Wild, he signaled MacKinnon by slapping his stick on the ice and calling to him "Razor!"
MacKinnon shook a defender behind the goal with a move that invoked everything Gretzky, and hit Stastny on post with a precision pass. Stastny shot. Stastny scored, and the Colorado Avalanche stunned the NHL with a win, and Nathan MacKinnon's nickname 'Razor' was cemented into hockey lore.
Some are trying to say the name was given to him because of his speed and sharp play making ability. So why not just call him 'Mac the Knife', too obvious? No, it is because he is so young he still has trouble growing much facial hair.
When asked if his teammate does anything that surprises him Avalanche Defenseman Erik Johnson replied, "Besides dyeing his beard? Not really."
His teammates love him. They do not just like him because he is a good sport for locker room hazing, though it is safe to say this is part of it. They love him because he is one of the rare talents who can seize the spotlight by sharing the wealth.
Nathan MacKinnon is as likely to hit a teammate with a precision pass as he skates up the ice with speed that makes defenses look like they are skating on cement, as he is to shoot the puck with a laser-like or rather, 'Razor'-like wrist shot.
The comparisons to Gretzky are not just for headlines. Consider that Nathan MacKinnon stands six feet tall at 182 pounds, and that Wayne Gretzky stood six feet at 185 pounds when he played. It is safe to assume MacKinnon will gain at least three pounds once he is no longer a teenager.
Also consider that MacKinnon broke one of Wayne Gretzky's single season records with thirteen straight games with at least one point by an 18 year old, a mark that has stood since 1979. If Nathan MacKinnon does not win the 2014 Calder Trophy for NHL's Rookie of the Year, it could only be because voters don't like his nickname, or because they have decided to borrow a page from 'Razor's' playbook and spread the wealth to one of the other outstanding rookies in the league this season. Regardless of how the voting turns out, youngsters in the NHL will be chasing MacKinnon's mark from here forward, whether they can grow a playoff beard or not.
Commentary by Joseph Porter
Sources:
NHL
The Denver Post
Sports Illustrated