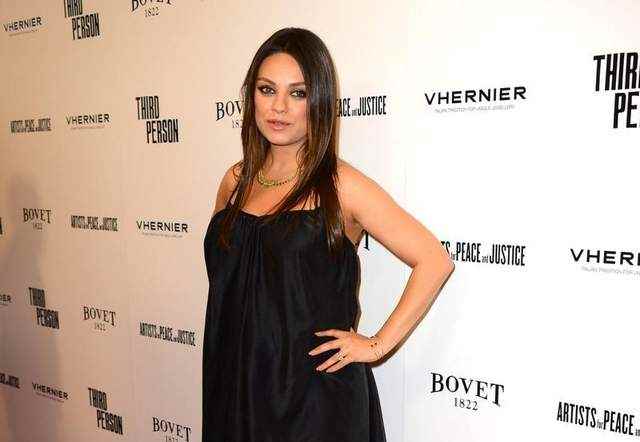 Actress Mila Kunis opened up in a recent interview with Marie Clair, chatting about her relationship with her fiance Ashton Kutcher, her parents, her career and her pregnancy, and dishing on subjects from her tripling breast-size to Kutcher's role in the delivery room. Kunis reported that she is delighted by the new size of her breasts, which have gone from a minuscule 34A to voluptuous 36c, thanks to her pregnancy.  She also reported that no one will be allowed in the delivery room except the doctor and Kutcher, and that there will be strict limitations placed upon where and what Kutcher will be able to view. He is to remain by her side and engage her face to face. He will not have the option of viewing the vaginal birth.
The actress also chatted about her relationship with Kutcher, which blossomed over the years from a mere platonic friendship to romance, not long after the separation from his then-wife, actress Demi Moore.  Kunis was only 14 when she starred alongside Kutcher on the sitcom That 70's Show.  The two were cast  as boyfriend and girlfriend, and while nothing happened during those years, Mila admitted to having a crush on the then 20-year-old Kutcher. It wasn't until 2012 that the twosome reconnected romantically. Kutcher's divorce from Moore was finalized in late November 2013.  Within the next three months Kunis and Kutcher were engaged, and a few weeks later it was revealed that Kunis was pregnant.
In addition to discussing her delivery room expectations and dishing on her new breasts, Kunis also spoke about her desire to rear well-behaved, mannerly children.  "I don't want my kids to be a*******s", she said.
Kunis also appeared as a guest on Jimmy Kimmel Live earlier this week, where she took a light-hearted jab at Kimmel after he revealed that he and his wife were pregnant. Kunis ribbed Kimmel, declaring, "Stop saying we're pregnant… You're not pregnant!"
Born Milena Kunis, the 30-year-old Ukrainian-born actress came to the United States at the age of seven. Her father was a mechanical engineer and her mother a physics teacher. However, after migrating to the United States, life presented more of a struggle. Her father was reduced to driving a taxi and her mother ran a pharmacy.  Kunis at first found the transition to life in the United States difficult.  She notes that she did not understand the language, the culture or the people. Her parents enrolled her in acting classes to help her meet other children.
Fast forward to 1998.  Kunis got her big break after being cast in the long-running hit series That 70's Show, and by 2002 she entered into a serious relationship with Home Alone star Macaulay Culkin after they worked together on the 2002 film American Psycho II: All American Girl.  Her relationship with the former child star lasted until 2010.
Now that Kunis' acting career is in full bloom, she says that her family has finally become more relaxed about her future.  They originally considered a career as an actress to be unstable and unpredictable.
Kunis and Kutcher will reportedly marry after their baby is born.  This will be the first child for both of the actors.  While continuing to dish on her new breasts and express delivery room concerns, Kunis can now also boast a thriving career as an actress. Her new film, Third Person is set to open in limited release on June 20.  The film co-stars James Franco.
By Janet Walters Levite
Sources:
Time
Daily Mail
NY Daily News
Biography.com
Marie Claire
CNN
Celebuzz