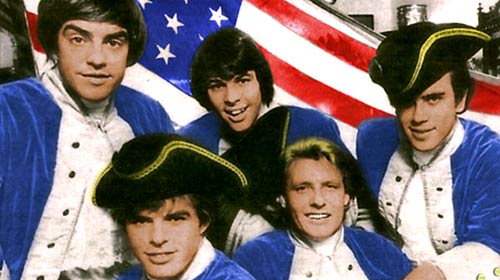 For those who were looking for a blast from the past, music and shows from Paul Revere and the Raiders was definitely an event that would quench the nostalgia. They were the band who dressed up in Revolutionary War styled costumes and sang old time Rock'n'Roll. But now in a sorrowful event held by the band and all who loved them, Paul Revere, the frontman of the band, has died at the age of 76.
On Saturday news was released that Paul Revere of the Raiders passed away in his home in Idaho. Though the official cause of death has not yet been released, it was said that many previous posts on Facebook stated that Revere had been facing health issues for some time now. One specific post in 2013 stated that Revere was going through everything, health wise. Though his doctor ordered him to slow down, the band continued to play shows that blared out the oldies, in revolutionary style.
The band began their professional music career in the 60's and 70's, when they were signed by Columbia records. They were one of the first performers to sing "Louie Louie," a song about a captain, telling his men that they have to go out to sea again, and the "girl" who is waiting for the main character of the song. The Kingsmen was also one of the bands that sang this hit song.
The British band, Paul Revere and the Raiders, also sang hits like "Steppin' Out," "Just Like Me," and "Hungry" but their hits always seemed to be second to their competition like The Beatles and the Rolling Stones. Their biggest hit years were from 1966 to 1969, when their records sold very well. Though they had many trials throughout their musical career, they continued performing shows to this day. They played fraternities, parties, concerts dedicated to oldies, and any other opportunity that came along. They loved being a fun and crazy band that could make people smile.
Many comments posted on the band's website and social media pages reflect this. Fans from everywhere have posted their memories of one of the concerts, their love of the band's music, and their comments on the personality of Paul Revere. Many of the comments are fun and emotional, and many are from women who loved the band, as the band naturally drew in a fan base of women, over the years. Five guys in British costumes, of course, would bring many female fans.
Paul Revere Dick was often referred to, over the years, as the "madman of rock & roll." He had a colorful personality that attracted many. Though his battle with health issues is said to have been a battle with cancer, Revere did not let that hold him down. He referred to himself as "The Energizer Bunny" on a Facebook post after he had revealed that he was facing health issues. He continued on, never letting his fans down, until the day he passed away.
A letter left on the band's website, addressed to Paul, stated, "But now you have passed on…you've left a blueprint of how to live a life full of love, laughter and happiness"
So far, no information has been released on memorial services for Paul Revere.
Sources:
E!
CNN
Rolling Stone
All Music