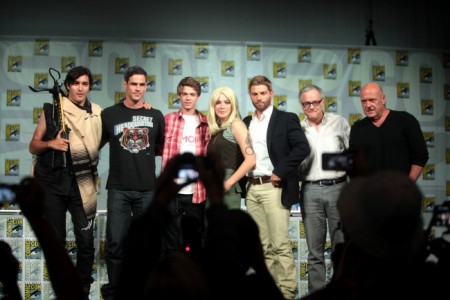 Under the Dome Season 3, Episode 3 Redux aired Thursday, July 2 at 10 p.m. EST on CBS. Last week was the season premiere of the CBS's hit sci-fi/drama, Under the Dome. The residents of Chester's Mill have not made much progress and are accepting that things will never be the same after what happened last week.
There was an argument between Big Jim and Junior after Junior injured himself trying to punch his way out of the dome. This week's episode, Redux will show Big Jim and Junior working toward reconciliation but ends with Big Jim's fist in Junior's face.
Big Jim is concerned with other things right now. It may be that he is expecting that their new residents, Christine and Eva, have secrets they are keeping concerning the Dome.
Junior seems to have some interest in Christine, which will complicate issues with Big Jim eventually. However, Junior breaks free from Big Jim and joins Christine in an interesting and highly sexual way, according to the series creator, Neal Baer.
Fans will watch Chester's Mill's residents try and move onward with their lives instead of dealing with the aftermath of their experience in the tunnels under the town. Then the residents appeared both inside and outside the Dome. The Dome is beginning to unveil its true agenda and the people are questioning who and what they can trust. There are new threats and new residents. Under the Dome Season 3, Episode 3 Redux aired Thursday, July 2 at 10 p.m. EST on CBS.
Everyone followed Melanie toward a white light and Barbie's hands were covered with some sort of slime. Then everyone ended up outside of the Dome before it blew up into a pink fireworks show. Barbie ran into the broken Dome to find Julia, but all that could be found were the dead bodies of Julia, Big Jim, and Junior. Melanie trapped residents inside pods under the Dome. The pods were connected through pink veins. Her goal was to help residents move on from the feeling of being trapped.
Melanie's plot was foiled when Julie and Big Jim broke through her lair and shot her mystical egg. This ended the alternate universe and freed the cocooned townspeople along with two new people. Norrie complains that she feels different, but she had just emerged from a cocoon while living in a false reality for what seemed like a year to her. The show ended leaving fans with more questions than answers, but the creator, Baer has promised that all will be revealed by the end of this season.
Under the Dome is based on Stephen King's bestselling novel of the same name. This is the story of Chester's Mill, a small town that is sealed off from the rest of the world by an enormous clear dome. The dome came down two weeks ago and the residents are struggling for survival as resources are running low. Residents are also seeking answers to what the dome actually is and where it came from. Conditions get more intense as the residents must make up their minds who they will trust as new people enter the town and Big Jim is still battling to gain the trust of the town. Under the Dome Season 3, Episode 3 Redux aired Thursday, July 2 at 10 p.m. EST on CBS.
By Jeanette Smith
Edited By Leigh Haugh
Sources:
Christian Post–'Under the Dome' Season 3 News, Spoilers
TV Equals–Under the Dome "Redux" Season 3 Episode 3
IBTimes–'Under the Dome' Season 3 Spoilers
Photos courtesy of:
Second photo courtesy of–Thibault's Flickr Page – Creative Commons License
Top and Featured images courtesy of–Gage Skidmore's Flickr Page – Creative Commons License