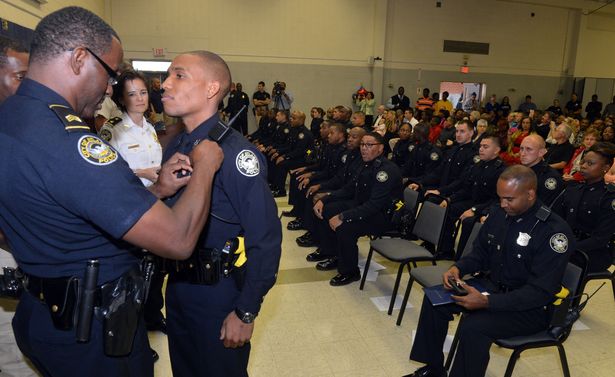 ATLANTA – The Atlanta Police Department is proud to announce the graduation of Class #240 to be held at City Hall Council Chambers located at 55 Trinity Avenue on Wednesday, October 7 at 7:00 pm.
Class #240 consists of 30 men and 9 women and the graduation ceremony concludes 22 weeks of rigorous training at the Atlanta Police Academy, along with 12 weeks of field training with veteran officers. The training includes classroom courses in constitutional law, Atlanta Police Department policy and procedure, hands-on defensive tactics, arrest techniques and daily physical fitness.
The Citizens Police Academy Class #25 will also participate in the graduation with 12 new members.
The keynote speaker for the ceremony is the Right Rev. Robert C. Wright. Bishop Wright is the 10th bishop of the Episcopal Diocese of Atlanta, which covers north and central Georgia and embraces 110 worshiping communities. Bishop Wright served as the keynote speaker at the Atlanta Police Department's 2015 Fallen Officers Annual Memorial Service and recently completed a ridealong with Zone 1 officers. In January 2015, Bishop Wright was named among the 100 Most Influential Georgians by GeorgiaTrend magazine. He earned an M.Div. from Virginia Theological Seminary, and he has been awarded honorary doctor of divinity degrees by the Virginia seminary and Sewanee: The University of the South.