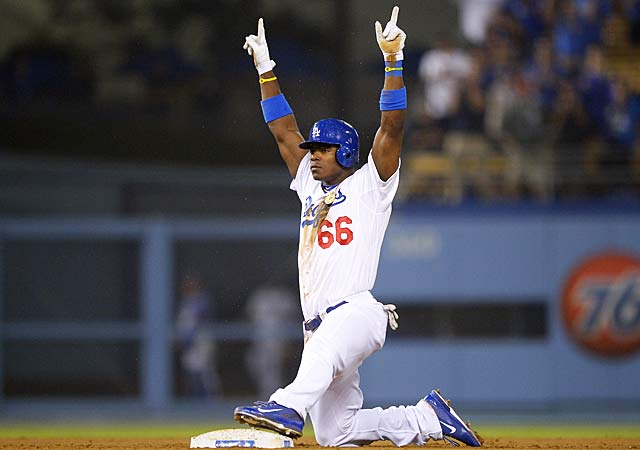 With every polarizing incident, Los Angeles Dodgers outfielder Yasiel Puig becomes more and more of a villain in a sports world so devoid of nefarious figures. He has become the poster boy for disconnect, whether it be base-running blunders, disrespecting his elders, showing up to spring training 30 pounds overweight, reckless driving arrests or flipping his bat halfway across Los Angeles after every fly ball he hits. The Dodgers have become one of baseball's most prominent teams, and Puig has slapped a huge target on their backs. Not only is he baseball's most lovable villain, but Puig is also the linchpin to LA's success this season.
The Dodgers' roster is chock full of established veterans with substantial contracts who are expected to carry a majority of the load for this squad. Puig is a member of a crowded outfield with veterans Matt Kemp, Carl Crawford and Andre Ethier, all of whom massive injury risks. Hanley Ramirez and Adrian Gonzalez lead a dangerous yet inconsistent infield. Because of the uncertainties, Puig is the key cog in the lineup and in the field. Ramirez is no sure thing to stay healthy or to produce like he did last season, leaving Puig as the one consistent right-handed threat in the lineup.
That being said, Puig still has just a little over half a season under his belt. The Dodgers' season last year could so clearly be described in two parts, B.P. and A.P. (after Puig). LA was 23-32 before Puig ascended from the minors last season, and then finished the season 69-38 with him.
Puig is hitting under .200 so far in spring training, a far cry from the .517 average he posted last season. It will be a major adjustment for him now that his weaknesses are so blatantly obvious after the league has a full season of game film on him: inside fastballs and outside breaking balls.
The Dodgers know what they are going to get out of starters Clayton Kershaw, Hyun-Jin Ryu and Zack Greinke. Aside from that, there are big question marks in the starting rotation as well. Puig's value cannot be overstated since he is also one of only two players in the regular everyday lineup under the age of 30. His off-field antics have not only stirred up some bad blood across the baseball world, but also in his own clubhouse. He is just 23 and has had a number of riffs with coach Don Mattingly and the rest of the organization. The main point of concern is that the Dodgers have a team full of veterans that absolutely must take Puig under their wings in order to keep him from plunging off the deep end.
Opening day may have already taken place for the Dodgers after their two-game stint against the Arizona Diamondbacks in Australia, but it does not feel like opening day yet to anybody. The Dodgers need Yasiel Puig to be the player he was last year, otherwise they will sink. He is hands down their most important player and will continue to be for a number of years.
Commentary by Justin Hussong, Guardian Liberty Voice Sports Writer for the Los Angeles Dodgers
Sources
Yahoo! Sports