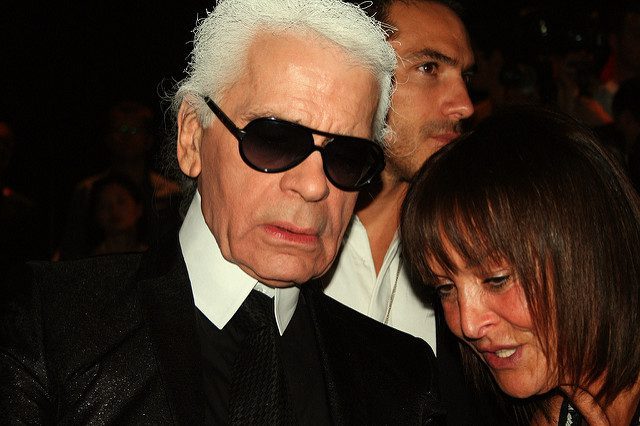 The fashion label Chanel has announced on Feb. 19, 2019, that the legendary designer Karl Lagerfeld has died. The cause of his death was not announced, but he had been in failing health. Lagerfeld was 85 years old.
Lagerfeld did not attend the Chanel Spring haute couture show held on Jan. 22 in Paris. After the completion of the show, an announcement was made that Lagerfeld was ill and not able to attend.
The fashion designer was known for his signature style of black sunglasses, fingerless gloves, white ponytail and a white-collar shirt in 1967 joined Fendi. In 1983 he was hired by Chanel to oversee their ready-to-wear and haute couture lines.
In 1984 Lagerfeld started his fashion line based on rock themed and Parisian men and women's clothes. He continued to also work with Chanel and Fendi up to his death.
Donatella Versace posted to her Instagram of herself standing next to Lagerfeld and wrote that his genius touched many people including herself and Gianni. His talent and inspiration would never be forgotten.
Lagerfeld is credited from taking Chanel from a small label to one of the largest in the industry. In 2018, the business known for their handbags, perfumes, and jackets was worth $1.79 billion, up from 18 percent in 2017.
Lagerfeld liked to keep his personal life out of the spotlight and private. He was known for his cat Choupette, who was his constant companion. The designer made an Instagram account for the feline, and the cat became known as a celebrity pet.
Despite his poor health, Lagerfeld was scheduled March 5 at the upcoming Chanel womenswear show.
Lagerfeld is survived by his sister Christine Johnson, godson Hudson Kroenig, and cat Choupette.
Written by Barbara Sobel
Sources:
The Hollywood Reporter: Karl Lagerfeld, Fashion Icon and "Master of Reinvention," Dies at 85
The Guardian: Karl Lagerfeld, Chanel's artistic director, dies aged 85
BBC: Chanel lifts the veil on its profits for the first time
Featured and Top Image Courtesy of Marcol Mann's Flickr Page – Creative Common License