GTA 5 is undoubtedly one of the most high-profile games of this year, allowing the previous generation of consoles to go out with a bang, rather than a fizzle. With the news that Rockstar's illustrious open-world smash hit has sold around 29 million copies, the corporate masterminds over at Take-Two HQ are likely rolling around in stacks of cash and gold like an army of suited Scrooge McDucks.
Naturally, as with any game, GTA 5 has had its fair share of technical hiccups; these issues ranged from the mundane to the near game-breaking. Although the single-player component gained glowing review scores – with gaming journalists gushing over the title's mechanics, graphical fidelity and Los Santos' expansive world – the multiplayer segment was not as highly regarded.
Conceived as a separate experience to GTA 5's main campaign, GTA Online was plagued with a myriad of persistent gripes, frustrating a significant proportion of the gaming community. Users reported difficulties in connecting to game servers and Rockstar's Social Club service, whilst another common source of irritation involved players encountering crashes during load screens. However, the greatest consternation – transforming many a GTA 5 gamer into snarling, apoplectic beasts (quite understandably) – involved the loss of character progression.
However, we're now in a situation where patch v1.06 has arrived, the Beach Bum DLC has been unveiled, free of charge, and gamers have received their $500,000 Stimulus Package; all now appears well in the virtual world of Los Santos.
Aside from some of the more serious bugs, GTA 5 has provided a wealth of funny moments and glitches. Ultimately, when it comes to simply messing around and having fun, there are few games that come close to Los Santos' frantic, crime-infested streets. With this in mind, we've scoured the Internet in search of some of the top funny moments, glitches and stunts.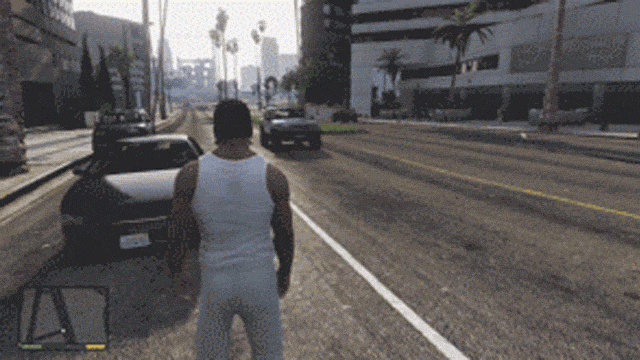 Warning: the following video footage contains material and language that some viewers may find offensive; the material is not suitable for anybody under the age of eighteen.
GTA 5 BMX Stunt Compilation
The first video was uploaded by Gaming with the Wife, and shows Franklin performing a number of quite extraordinary BMX tricks across the many and varied locales of Los Santos. My personal favorites involve the chance incorporation of innocent bystanders into the stunt attempts.
Attack of the GTA Clones
Quite a common bug seems to involve the cloning of the residents of the De Santa household. Many players have reported witnessing clones of Michael's family spewing forth from every corner of the household, like the inexorable spread of bacteria within a Petri dish.
Insane Vehicle Stunts
This is one of those rare stunts that you would be hard pressed to reproduce, given a thousand attempts. Regardless, the stunt culminates in some expert parking.
If you thought the last clip was impressive, the next assortment of insane vehicle stunts, uploaded by Machinima, will likely astonish and perplex in equal measure. The bike and airplane stunts show considerable dexterity, the likes of which are not frequently witnessed in any regular play through of GTA 5.
GTA 5 Police Scene Glitch
The next big GTA 5 glitch from our lineup involves police officers doggedly pursuing an invulnerable Trevor and Michael, during one of the game's many cut-scenes, as they converse at the De Santa residence.
Nonetheless, the pair seem quite content to serve as bullet sponges and continue to go about their business, entirely ignorant to the anarchy unfolding around them.
Over Zealous Cops of Los Santos
The GTA franchise has always been renowned for its persistent cops, who often tail beleaguered players to the ends of the Earth, insatiably baying for their blood. However, in the following clip, expect to be surprised by just how far some of the boys in blue are willing to take matters.
Top Compilation Clips
The next video compilation was aggregated by YouTube user Wintergore, and shows a montage of some rather aptly entitled "epic wins and fails." My personal favorite involves a police officer chasing down a random GTA 5 motorist; after yelling "what part of stop do you not understand?" the runaway vehicle inexplicably explodes in a big ball of flame.
Finally, we leave you with one last compilation of bizarre GTA 5 glitches and funny moments, uploaded by user AmazingFilms247. Some of the oddities include invisible ladders, flying cars, contorted cyclists and glitching NPCs.
That concludes our GTA 5 funny moments, glitches and stunts compilation. Feel free to check out some of the related GTA 5 articles from the rest of the Las Vegas Guardian Express team, below.
Related Articles:
GTA V Still Selling Huge After Two Consecutive Months – Juana Poareo
GTA V Cheat Codes, Hints and Tips – Angelina Bouc
GTA V Plagued by Bugs, Efforts to Placate Online Gamers Continue – Roberto I. Belda
GTA V Beach Bum Patch 1.06 Includes New Features for Free – Jennifer Pfalz
GTA V Online Multiplayer: How to Spend Your $500,000 Stimulus Package Money – James Fenner
GTA V Online Multiplayer Tips and Tricks: Money, 100% Ranking, Free Weapons and Tank Heists – James Fenner
GTA V Hidden Easter Eggs: Aliens, Zombies, Creepy Ghosts and Bigfoot – James Fenner
GTA V Hidden Easter Eggs Part Two: Halo Spoofs, Dancing Hillbillies and Playboy Mansions – James Fenner
Sources: